Thought Leadership Series: Talent Development in the Healthcare Industry
Posted by Molly Falconer on January 26, 2021
Emily Gaudette is the Director of Organizational Development for Catholic Medical Center in Manchester, New Hampshire. With over a decade in the industry she is well versed in building effective leadership development and training programs in healthcare organizations. She sat down with us to discuss what that meant in one of the toughest years for healthcare on record.


Hi Emily, thanks for joining us - let's start with a little background about how you got into the field of organizational development & learning.
Emily: When I was doing my undergrad, I wasn't sure what I wanted to do- I majored in sociology so I was studying culture and how people adapt to change in certain settings, but I actually wanted to go to nursing school and was looking at programs for folks who already had a bachelor's degree. Then I started working part time in an emergency department in and I realized quickly that I did not want to be so hands on. I ended up moving into a technical trainer position for the hospital I was working with, and in that role I took some leadership classes with our organizational development team, and they remembered me when a position opened up.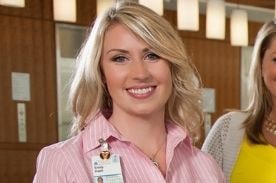 What's your favorite part of your job?
Emily: Seeing people have a mind shift into a different perspective they didn't have before or starting to grasp how a skill or a tool could help them be a better leader, or a better team member. It's so rewarding to see people taking on that growth mindset and be a more effective individual, not only at work but also in their personal life. I have a lot of people after a class on communication will come up to me and say, "You know, this is going to help my marriage", so seeing that change on multiple levels is really great. There's so many dynamics that people can take from what I get to do.


How has your role shifted in response to the events in 2020?
Emily: Let me count the ways! I'm in a smaller department, so I had to be okay with putting some things aside that I was working on and really shift so other things could take priority. We were a hospital that experienced some furloughs and layoffs, so I had to step around to the HR side and do things like establish a phone line for people to call in who had question about benefits, or their situation, so that was definitely a change for me because I don't typically get into that space. I think letting go of how I typically like to interact with people, which is in person and in the classroom- I had to figure out how to teach over Zoom and keep people engaged when you can't see them and they could just be playing on their phone and you'd have no idea!

I think the other thing is the skills gaps that were highlighted by the pandemic response- leaders had to go back to understanding how to be human, and empathetic, how to round on their staff in a way that was supportive and really check in with them, without being so much about day to day operations. People are having a really hard time- especially those in our ICU that are just seeing COVID after COVID patient- this is taking a toll on them emotionally and mentally, so as a leader, how can you go up to someone who is crying and have that conversation? This is a big shift to grasp, and I try to make sure that they have the skills and tools they need to do this. Also making sure they have the resources they need, such as childcare when daycares close- how can we be an employer that has a heart and help people still be able to come to work and not worried about what their kids are doing?

And how do you help build resilience, as we see cases start to rise again. When this started everyone reacted with a crisis response and we jumped in to working all these crazy hours, but now it's turned into a marathon- we're still in this state of being short staffed and people working crazy hours but being nine months in they're exhausted, and we're in the biggest surge we've ever had. How do you keep people's spirits up?
What advice would you give someone looking to enter the field of healthcare?
Emily: Healthcare has a huge workforce shortage- we need everyone- nurses, phlebotomists, assistants, technicians. There's no shortage of areas you can get involved with in healthcare. And seeing how the pandemic has impacted our hospitals I think some additional roles will become even more impactful. Healthcare is changing- the old models of payment plans and insurance have proven that a hospital can't sustain itself without the income from large procedures, so I think the way that we look at how we charge for healthcare will have to shift in the next few years, which opens up a lot of opportunity on the business side of healthcare. When people think of healthcare they think of having to be a hands-on caregiver but that's not the case. There's so many different roles and ways to work in healthcare- it's an operational business. Marketing, communications, HR, operations, supply chain- all those things you think of in a retail business we need them in a hospital too. So there's so many entry points to healthcare, and it makes for a really rewarding career.
Why should organizations think about talent & organizational development & why is it especially important in the healthcare industry?
Emily: I think every industry can benefit from talent development- I'm a big believer in lifelong learning, and that there's always something new to be taken in. I also think that organizations that have a development function have a more positive work environment and they have people that are more effective in their roles. When there's more growth and promotion opportunities people stay in those companies longer; for a company that's a big benefit. For healthcare in particular, I think people go through very technical training programs and they don't get the soft skill trainings around things like performance management or communication efficiency. These are skills that they have to learn on the job. While I think schools are starting to understand the need to do a better job in offering these it's still so important for us to offer trainings in these areas, especially for people who are being promoted to management positions.

And finally, in healthcare, when someone is effective at communicating the patient is actually going to be safer and get better care. If you have a nurse that's able to advocate to speak up, versus someone who's nervous or unable to speak up effectively, that patient's needs are going to be heard better. Mistakes can be avoided when you have people who are really able to have those efficient conversations. So it's crucial anywhere, but in healthcare it's a matter of life and death.