Why Offering Pharmacy Technician Training and Certification is Crucial
Posted by Des Sinkevich on January 28, 2021
As the United States continues to roll out the much-anticipated COVID-19 vaccines, trained pharmacy technicians will be vital to the process. As of early January,
over 30 million vaccine doses
have been distributed to immunization providers across the county. But many don't have the manpower to vaccinate patients and see to business as usual, contributing to the slower-than-desired vaccination rates across the country. Retail and privately owned pharmacies, however, have found a solution: hiring more pharmacy technicians.
Coupled with this increased demand, however, is a noticeable lack of qualified applicants to fill much-needed positions and more limited opportunities for proper training in the field due to social distancing measures and employee bandwidth. Because of this lack, it's the perfect time to bolster your course offerings with pharmacy technician training that can provide a pathway to employment and certification for your students and clients.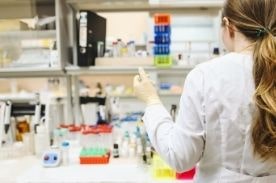 The growing need for skilled pharmacy technicians
Even before the pandemic heavily influenced hiring trends in healthcare, the need for skilled pharmacy technicians was growing. The Bureau of Labor Statistics had projected
an additional 15,200 jobs
created by 2029. An aging population and an increase in those with chronic conditions were cited as major factors in the growing need for healthcare staff across all industries. As we settled into the new normal of pandemic life, with hospitals overwhelmed with patients and clinics struggling to meet the demand for COVID-19 testing, a new surge in hiring saw the creation of more jobs for frontline workers. For pharmacies, that meant more pharmacy technicians to handle the day-to-day business while pharmacists focused on administering tests and counseling patients. Today, that also means hiring more pharmacy technicians to help with immunization efforts.
This growing need for skilled technicians is even more urgent since the Department of Health authorized
qualified pharmacy technicians
to administer immunizations as part of the Public Readiness and Emergency Preparedness Act. The change acknowledges that pharmacists, in coordination with trained pharmacy technicians, have established relationships with patients and are well-positioned to offer guidance and quality immunizations. Additionally, allowing pharmacies to administer the COVID-19 vaccines is an important mitigation effort – with 90% of people living within five miles of a retail pharmacy, travel for those patients seeking vaccination would be minimal.
Since October 2020, retail pharmacies like CVS Health have been preparing for the opportunity to
administer immunizations
, hiring 10,000 full and part-time pharmacy technicians to bolster the number of those authorized to vaccinate customers. Other major pharmacies across the country like Walgreens and Rite Aid are expected to see
a hiring boost
as they've also entered into a contract with the CDC to be one of the official COVID-19 vaccination program providers. This means thousands of job opportunities for qualified pharmacy technicians across the country.
What makes a pharmacy technician qualified
As the United States aims to increase vaccine distribution, more frontline workers capable and qualified to administer them will be vital to that success. Pharmacy technicians will play a huge role in ensuring widespread distribution – but it's important to note that only qualified pharmacy technicians will be allowed to immunize patients. So, what makes someone qualified to fill the role? It varies by state, and the declaration that allows pharmacy technicians to administer vaccines doesn't change that.

For some states, pharmacy technicians don't need formal training or licensure. In others, they need to be registered with the state board and hold certification in the industry. But whether or not your state requires formal training and education in the role, having techs who are already knowledgeable and ready to work will speed the onboarding process and allow the pharmacy to efficiently increase the number of immunizations they're able to provide daily. That's why providing pharmacy technician training is more crucial than ever right now. But can training programs allow for the quick turnaround needed to staff pharmacies while still building essential skills and preparing learners for certification? Some digital training programs absolutely can.


Rapidly prepare learners to take on vital roles in pharmacies
The need for qualified pharmacy technicians won't disappear overnight. It will take years to properly vaccinate the population against COVID-19. However, that doesn't mean it should take years to prepare those ready to work as pharmacy technicians. Through digital training from
Penn Foster's Healthcare Careers Institute
, learners can develop foundational skills and prepare for industry certification in as little as six months.
The
ASHP-accredited Pharmacy Technician Professional course
covers essential knowledge in pharmacology, sterile and non-sterile compounding, and pharmacy law and regulations. Through flexible, online course work and interactive simulations, as well as hands-on practical labs, learners can prepare to be effective employees while pursuing certification. Offering digital training can provide an in-demand career path option for learners while also filling a crucial role in mitigating the further impact of the pandemic through immunization. If your organization wants to ramp up training offerings for pharmacy technicians, there's no better time than now.
Contact a Penn Foster training expert
today to learn more.