Why Upskilling is Essential to Recovery in 2021
Posted by Des Sinkevich on January 20, 2021
In 2021, the focus for many businesses is recovery. 2020 heavily impacted staffing and the economy, with many industries being forced to lay off workers en masse to financially weather the changes caused by the pandemic response. As some businesses are finally able to bring back workers and hire new ones, training and upskilling will be vital to maintaining momentum and increasing productivity during recovery. Even those industries that are still pushing forward can use learning and development as a method to engage and offer opportunities to dedicated employees who still need to adapt to quick changes. But with budgets that have been stretched to cover immediate business needs during an economic downturn, is allocating spending for training worth the cost? In the long run, yes.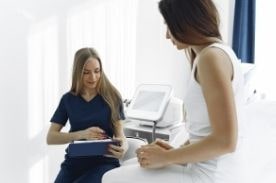 The cost of turnover and recruitment
In a normal year, the cost of employee turnover and recruitment can be high, making it essential to focus on improving retention rates. In an unprecedented pandemic year, that cost could be detrimental to your recovering bottom line. A breakdown of how much your business could be expected to pay includes:
How much you lose per employee. Losing an employee can cost a company around 1.5-2 times that person's salary. In some industries, it can be as high as 10-30% of the annual salary for the role you need to fill. For example, manufacturing businesses see an average turnover rate 16% annually, while in the past healthcare organizations battled a high 19.9%.
The rate of turnover. On average, the turnover rate worldwide for all roles is 10.9%. In industries like retail, which has struggled with high turnover rates historically, the average is 13%.
The cost to hire. Hiring costs involve more than the salary you're paying your new employee. The average cost to hire is $4,129 per role and it often takes a minimum of 43 days to fill open positions with the right candidates.
Besides the monetary impact turnover has on your company, it can also negatively affect the morale and productivity of your remaining employees over time. In the end, stressed employees who feel overworked, or underappreciated and overutilized, will only increase your turnover – and slow down the productivity necessary to recover in 2021.
Effective on-boarding increases productivity and retention
When recruiting new hires in 2021, a focus on in-depth training and onboarding is essential to ensuring employee productivity – and retention – down the line. For some industries that need to hire quickly, such as healthcare, hiring those who already possess job related skills and experience can speed up the process. However, that doesn't mean that new hire training should be expedited or condensed. In fact, doing so can negatively impact how well that employee performs in their new role. It can even lead to a dip in morale over time. That's why it's just as important to focus on effective onboarding programs, along with learning and development training for current employees.
Offering digital solutions for onboarding – especially for those working remotely - can ensure your hires hit the ground running and become strong members of your team from day one. Whether your program focuses on general career skills, such as customer service, or provides industry-specific knowledge, new employees will be able to confidently integrate into your workforce. And, besides producing employees who know their job duties inside and out,
a strong onboarding program
improves new employee retention by 82% while also boosting their productivity by 70%.
How to improve productivity through training
Retaining skilled employees is a goal for most businesses to stay ahead of the curve. Increasing retention rates means increased employee morale, improved culture, and high productivity. In order to increase productivity to make a strong comeback in 2021, ensuring your employees are ready for what's to come is essential.

69% of employees are likely to stay with a company for at least three years if they had comprehensive onboarding, with 87% saying professional career growth and advancement opportunities influence whether or not they'll stay. Further, training is one of the most effective ways to increase productivity and revenue. According to the Association for Talent Development, companies that offer comprehensive learning and training programs see a 218% increase in revenue per employee.

The bottom line? While your company may be stretched thin as it recovers from pandemic restrictions and losses, investing in training is worthwhile and can result in a shorter recovery period and high return on investment long-term.


Invest in digital training
The benefits of in-depth training and learning opportunities are obvious, but in-house training programs can put a strain on already over-stressed employees. Taking time out of their day to provide classes and education isn't feasible. That's where online, digital solutions come in.

With an expert training partner like Penn Foster, businesses can provide cutting edge training that prepares workers for their roles or advancement within the company – and it's training that can be completed around work schedules with little to no in-house effort. This can ease the burden on experienced employees and managers, while allowing human resources and leadership to focus on day-to-day business needs. With a variety of programs in high-demand industries from skilled trades to healthcare, you can prepare employees to confidently complete necessary tasks while offering the opportunity for career growth.

Engage your workforce while improving revenue and productivity with an online training program. Contact our training experts to discuss our program offerings today.