Best Practices to Help Learners Succeed
Posted by Nicole Krempasky on July 1, 2021
Northwest Career College's (NCC) mission is to inspire the next generation of professionals through dedication to service, commitment to mentorship, and innovation in education. In just the last year, they've seen a massive increase in enrollment, graduation, and matriculation rates in their partner program with Penn Foster. We recently spoke with Nicole Pangelinan, designated Special Populations Coordinator at NCC, to learn more about what it takes to help learners succeed. Her student-centered best practices can be credited with the new-found success of the program.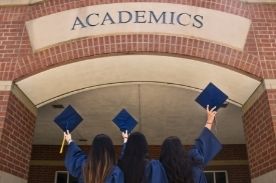 What are the best practices to help learners succeed?
Though many students experience obstacles at some point in their studies, returning learners looking to earn their high school diploma often face the most challenges, chief among them their own
self-doubt
. So, when she transitioned into this role at NCC in 2020, Pangelinan knew she had to create a plan that would boost her students' self-confidence. To accomplish this, she created a set of best practices that she implements with every student enrolled in the Penn Foster program.
Nicole Pangelinan, designated Special Populations Coordinator at NCC
By establishing a learner-centric framework that supports students from the start of their program through the end, Pangelinan has created a set of practices that can be applied to students in any program and at any level.
Establish expectations. Offering transparency in what is required of a student lets them know up-front what they need to do, creating an overview of what their life will look like throughout the duration of their studies. It's important to ask questions like whether or not they're currently working or have a family, as these responsibilities can impact overall planning.
Remind your students of their "why". There's a reason your learners have chosen to take this path now, but the stresses and challenges of courses can sometimes cause them to lose sight of their ultimate goal. Reminding them of their "why" can keep them going when they feel like giving up. As a tool to help with this, Pangelinan created a 200-word entrance essay where students must answer question prompts that outline their "why." "It helps me see who is good at following directions and provides the motivation to keep them pushing forward when they experience self-doubt," Pangelinan said.
Be open to change and learn from students. Not every system works perfectly from the start, so it's important to seek feedback and identify opportunities for improvement. Soliciting feedback from students on ways to improve the process not only helps to keep the focus on student success, but it also makes them feel more involved in their learning process, giving them a sense of ownership of their own future.
Constant communication. You won't know when your learners are struggling or in need of encouragement if you don't make yourself available to them on a consistent basis. Keeping in constant communication through weekly check-ins or mid-week touchpoints reminds them they have people who support them and are invested in their success.




By emphasizing this set of best practices as a critical part of her students' educational journeys, Pangelinan has seen just how impactful this level of assistance can be in helping students envision a better future for themselves. For some, it's more support than they've ever received in their own experience with education. "The program offers hope," said Pangelinan. "It just shows them you're in their corner."
Penn Foster provides a dedicated solution for Northwest Career College
While NCC prepares future professionals for the workforce, not every student begins at the same starting point. Many incoming students have not completed high school, a requirement for enrollment at NCC. Through NCC's partnership with Penn Foster, these students are afforded three months in which they can earn their high school diploma, setting themselves up for the career training that follows. In their career training studies, students complete courses in specific, in-demand job skills to earn a certificate in their field of choice. The certificates they earn are designed to help them get better jobs and ultimately improve their quality of life.
In order to better facilitate student success, NCC established the Special Populations Coordinator position, whose role is to help students navigate challenges, qualify for enrollment, and build confidence in pursuit of their goals. In addition to academics, the program also provides the opportunity to learn invaluable soft skills, such as
time management
, discipline, and
communication skills
. Pangelinan explains that the program is about more than just finishing high school. "I think this program offers a second opportunity," she said. "With the pandemic, a lot of students are realizing that if you don't have this education, you're not getting far. It's not about who you know anymore."
The benefit of partnering with Penn Foster
In today's busy world, providing high-quality support isn't always an easy task. Penn Foster works with hundreds of colleges and career schools throughout the country, providing regionally and nationally accredited high school diploma pathways as well as career programs and courses to supplement established curricula. Penn Foster's Learning Progress Portal allows program administrators to monitor student progress and track milestones in order to provide additional assistance where applicable. By partnering with Penn Foster, colleges like NCC have been able to better support their students throughout their educational journey, ensuring they have the support they need to succeed in the job market of the future.
To learn more about how partnering with Penn Foster can help you improve your student success rates,
contact a Penn Foster training expert
today.