How a Walmart Associate Grew Her Optician Career
Posted by Autumn Granza on June 29, 2021
Yulanda Edgin, a Walmart associate, found our online Optician Career Diploma Program through our partnership with Guild Education. Wanting to further her career in the optical field, Yulanda needed training. That's when her manager encouraged her to enroll in our self-paced program. Yulanda graduated from the program this year and is now studying to become licensed. She's also encouraging her coworkers to advance their career.

"I have recommended this program to coworkers already because I believe that this program gives them a clear understanding of what they need to know to further their career in the optical field," she said.

Here's what Yulanda had to say about her Penn Foster experience.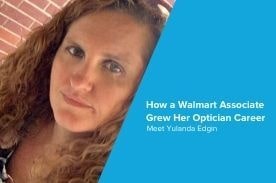 What did you like about the optician program?
Yulanda: The main thing I liked about the program is that it's self-paced. You can do it on your own time. You weren't obligated to have a time limit to have something due by a certain date or anything like that. So self-paced was good for me because sometimes you don't get things turned in on a due date because of unexpected, unforeseen things that would come around.


Can you tell me how Walmart and your manager may have supported you?
Yulanda: My manager was a big support. Any questions I may have had, or anything that I didn't understand, he was able to answer them and if he didn't know the answers to the questions, he would look it up and try to find it and we'd research it together to find out what needed to be done or how it was supposed to be done. So, he supported me in a big way. The market manager also supports us as far as going to school to get our license because he believes in promoting from within. So, there's all these options through Walmart where they want to promote from within. So as long as you're dedicated to get the sources you need, they're willing to look at you and help move you up.


Were there any advantages to working in the optician field while learning online?
Yulanda: My manager while working with him [in the Vision Center], he would show us 'this means you can do it this way, or this is the right term for it.' So, he was already doing things like that. So, when I got in the program and started taking the course it came easier to me because I was already familiar with it... Working in the field I already had knowledge of what those items were.


How do you feel you compare to your coworkers having been through this program?
Yulanda: Compared to my coworkers I think I'm a little more knowledgeable about certain aspects of the optician field now. We teach and train. What I don't know, my manager teaches and trains me and the things that I know I try to help teach and train my coworkers and encourage them to take the program. That way they can also get on the same page.


How did your education with Penn Foster help you take the next steps with your career?
Yulanda:
I believe with the education from Penn Foster it put me in a better standpoint of knowing what I need to know to take my test and actually be more comfortable taking my test where before if I just went to take the test, I would have known nothing.
Listen to our full interview with Yulanda on our
Alumni Spotlight Podcast
.