The Future of Post-Vaccine Healthcare
Posted by Nicole Krempasky on June 25, 2021
Ever since the world stopped last March, we've anxiously waited for an end to, or at least a respite, from the pandemic. We watched the medical field undergo massive changes, working harder than ever, with an increased need to fill many medical roles while simultaneously developing new and essential skills. However, now that the vaccine rollout is well under way, many of us are left to wonder what the future of healthcare will look like in a post-vaccine world.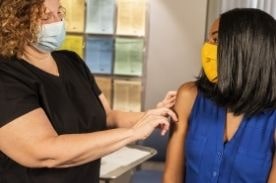 Telehealth growth will increase the need for medical assistants
With the precarious nature of COVID-19, many people were afraid to go to doctors' offices for routine exams and minor issues for fear of either contracting or spreading the disease. Telehealth provided a safe alternative method of providing and receiving routine medical care. While its use was already steadily growing, the pandemic saw telehealth services increase by
154 percent
over the same period the prior year. Medical assistants, in particular, played a vital role in the successful implementation of telehealth, lending support to doctors, nurses, and other frontline workers.
Experts are expecting
that trend to continue, particularly with regard to healthy individuals with busy schedules and those patients dealing with chronic health conditions, especially those who continue to experience the
long-term effects
of Covid. The pandemic proved telehealth services provide an easier way to manage and maintain their treatment. What used to require an in-person visit can now be accomplished through video conferencing, phone calls, and digital monitoring of blood pressure, blood sugar, and heart rates.
Medical assistants will also still be expected to provide the same services as they have in their traditional, in-person roles, but with even more emphasis on their administrative duties. They'll continue to provide patient education and support, along with directing information between providers and clinical staff, as well as the coordination of patient appointments and care plans.
The growing role of pharmacy technicians
In addition to an increasing use of telehealth services and the need for qualified medical assistants, changes are also expected to be seen outside of the more common healthcare settings. For instance, though the vaccine rollout is well under way, only half of all eligible Americans have received both doses. With millions still awaiting at least one jab, and with the prospect of minimally one
booster shot
proposed for the fall, pharmacy technicians will continue to stand at the forefront of vaccination efforts.
As well as assisting with billing and reporting all types of immunizations to state information systems, pharmacy technicians also identify patients for vaccine eligibility, assist pharmacists with scheduling, and perform essential vaccine and supply inventories. In fact,
several states have also approved
pharmacy technicians to administer vaccines while under pharmacist supervision. Between yearly pharmacy-delivered vaccines such as the flu, added with the potential need for
yearly Covid-19
vaccines more pharmacy technicians will be needed to match the demand of distribution efforts, as well as the increase in administrative tasks, resulting from the increase in delivered immunization doses.
Increasing the supply of qualified workers
Though the demand to fill these vital positions looks positioned to grow in a post-pandemic world, the immediate supply of qualified workers is not necessarily there. Accelerated career training through Penn Foster can help fill the gap for these in-demand healthcare positions while providing your organization with well-trained medical assistants and pharmacy technicians. They can earn their Medical Assistant Career Diploma or Pharmacy Technician Career Diploma in a matter of months, helping to ensure that the healthcare industry is well staffed and prepared for the enduring results of the pandemic.
To learn more about our healthcare training programs,
contact a Penn Foster training expert
today.