Growing Veterinary Teams with Vet Tech Utilization
Posted by Des Sinkevich on March 4, 2021
As pet ownership continues to increase and current clients are seeking more wellness visits, many overwhelmed veterinary practices are struggling to accommodate appointments. This influx of new patients has put more stress on veterinary healthcare teams, contributing to an already high rate of burnout or compassion fatigue for working veterinary technicians and assistants. One way to address this issue is through increased veterinary technician utilization. Penn Foster recently hosted a roundtable discussion with industry thought leaders Liza Rudolph from East Coast Veterinary Education, Liz Hughston, President of the National Veterinary Professionals Union, and Julie Legred, co-owner of Veterinary Advancements and Vet Team Global Stream, to glean insight into proper utilization and how it can have a positive impact on productivity, client care, and the veterinary team as a whole. Here's what we learned.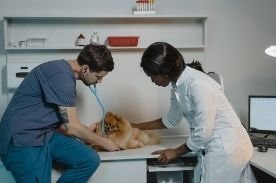 What is proper veterinary technician utilization?
Effective veterinary technician utilization has been an ongoing discussion – and struggle – for practice owners. That could be because veterinarians and practice managers may not be aware of what proper utilization really means. It's more than ensuring you have enough staff; it's also about understanding what each person on the veterinary healthcare team is capable of and empowering them to use their full skillset.

Defining what a veterinary technician can do is the first step to proper utilization. While some states don't require veterinary technicians to be credentialed to work in the field, credentialing can allow them to confidently take on more tasks, balancing the workload for the entire team. A credentialed veterinary technician can take on a variety of tasks that allow the veterinarian to focus on patients. These include completing testing and lab work, assisting during surgery or exams, and, in some clinics, taking non-emergent client appointments.
How does veterinary technician utilization improve workplace wellness?
It's no surprise that those in veterinary medicine are more likely to face early burnout and compassion fatigue than many other professions. Working long hours and taking on a demanding patient workload play a part – but so does ineffective team utilization. When practices are understaffed or not using staff to their full abilities, once passionate technicians and assistants can easily become overwhelmed and disaffected. In fact, many veterinary technicians end up
making a career change
after five years in the field. This turnover, then, adds further stress to those staff that remain at the practice.
Effective veterinary technician utilization – and the proper utilization of all staff members – can improve workplace wellness and culture, increasing retention rates. When staff is empowered to use their skills, especially those skills learned in a college or career training program, it can have a positive effect on the practice overall. Employees end their shifts on time, rather working long hours to make up tasks that couldn't be completed. They're happier in general, which contributes to a more positive workplace, decreasing the toxic behaviors that can sometimes pop up in overworked practices.
Engaging staff through proper utilization
Utilizing your credentialed veterinary technicians to their full potential ultimately builds trust, confidence, and passion for the practice in which they work. They know that they are contributing fully to the veterinary team and will often find ways to ensure practice success. A happy, engaged veterinary technician will improve retention rates for clients, search for ways to attract new business, and more.
Learn more about empowering your veterinary team
From what utilization means to the impact it can have on a veterinary practice, our roundtable speakers share their insight from years in the field. Watch the recording.