The Rise of Women in Skilled Trades
Posted by Michelle Ecker on May 6, 2021
When more women join our labor forces, the economy benefits. As the Washington Center for Equitable Growth has repeatedly pointed out, there is a significant relationship worth identifying between a country's per capita Gross Domestic Product and the
women's labor force participation
rate in that country.
However, it's no secret that in the US, a number of industries seem to have remained male-dominated over time, the skilled trades industry long being one of them. In 2018,
fewer than one in 20
construction trades workers were women, according to a study by the Institute for Women's Policy Research.
By calling out trends like this, identifying opportunity for change, and seeking to foster more gender inclusivity, we are not only creating more diverse and equitable opportunities in the workforce, but we're also driving further economic success and productivity overall. To start, over the next 5 years, the JFF is working to provide apprenticeship opportunities in manufacturing to nearly 2,000 women and people of color- and they have chosen Penn Foster as the online, related technical instruction provider for
the initiative
.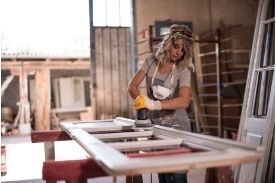 Growing opportunity in the skilled trades industry
Workforce demographic aside, the skilled trades industry has been a pocket of employment growth opportunity for some time now, with employers and hiring managers often struggling to source talent and fill a skills gap within this space.
For women looking for career opportunities in stable, well-paid roles, skilled trades is a promising industry worth exploring, and one currently rife with roles that need filling. Not only has
employment within skilled trades
remained stable over time, the work is reportedly well compensated. According to the 2019 Bureau of Labor Statistics Occupational Employment Statistics (OES), half of payroll workers in construction earn more than $49,030 and the top 25% make at least $68,690. In comparison, the U.S. median wage is $39,810, while the top quartile (top 25%) makes at least $64,240.
Encouraging women to pursue skilled trades roles
When we acknowledge that women are an untapped potential source of skilled trades talent, we can identify clear opportunity for economic growth not only for those women seeking these careers, but also for the trades that are quickly growing and consequentially need a labor force to grow along with them.
However, there are systemic barriers that may hinder women's enthusiasm to enter the skilled trades, and properly identifying and addressing these barriers is a helpful part of the larger conversation around industry growth. For example, a Department of Environmental & Occupational Health Sciences study on
health and safety for women construction workers
identified barriers and issues specific to women. One of the items included in a reported list of barriers was a
lack of equal training opportunities
.
The importance of providing accessible training opportunities
As a leading skills training provider, Penn Foster has a long history of providing training- along with robust support and services, to the skilled trades workers of today. Penn Foster's online and blended learning programs are delivered in a self-paced, competency-based model wrapped by comprehensive academic, professional and personal support and coaching.

So as an employer looking to provide accessible, practical skilled trades training solutions to a diverse workforce at scale, partnering with training providers like Penn Foster could be a great solution. Not only that, as a worker looking for flexible training options that can be completed online, from home in a self-paced format, these are also programs that seek to eliminate traditional barriers to training completion, as the programs provide students with more control over their own schedules. So not only are these programs entirely configurable, meaning business owners can create curriculum that addresses their specific needs, but the self-paced format allows all students to train on a flexible schedule, without having to miss work or juggle additional responsibilities in order to do so.


Partnering with Penn Foster to provide training to today's skilled trades workers
Given the current and mounting need to close the skills and talent gap industry wide, employers can proactively prepare by providing more robust training and upskilling to new and existing employees.
Whether it be a configurable training program designed to meet specific, tailored needs of each organizational partner, or multi-year apprenticeship programs and career diplomas, Penn Foster's skills-based portfolio of education and training solutions were designed to help provide upward career mobility to today's workers, while delivering productivity and efficiency outcomes within any skilled trades organization.
Contact a Penn Foster training expert
today to find out how you can leverage flexible training for your workforce.