How Rarebreed Invests in Veterinary Staff and Practices Through Training
Posted by Des Sinkevich on October 19, 2021
There's no doubt that skilled veterinary technicians and veterinary assistants are vital to a well-run practice. These essential workers have played an integral role in providing quality care for patients while quickly adapting to new social distancing measures and curbside appointments throughout the pandemic. They work tirelessly to compassionately care for beloved pets, assisting veterinarians in exam rooms, surgeries, and so much more.
But too often, these highly skilled workers are vulnerable to compassion fatigue and burnout, causing them to
leave a career
they were once passionate about in as little as five years. This constant turnover is detrimental to teams in the profession, and the impact on veterinary practices can be potentially devastating.
One sure method to decrease turnover in your practice is by investing in your employees. For Rarebreed Veterinary Partners, investing in veterinary healthcare teams is essential to ensuring veterinary professionals thrive at work – ultimately creating confident teams that are able to focus on patient care and show up at their best.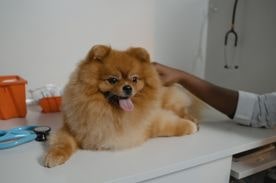 Skilled veterinary technicians are vital to veterinary practices
Veterinary technicians are instrumental to patient care, bringing a wide range of expertise to a veterinary practice. With knowledge of anesthesia, radiology, immunology, nutrition, and more, trained and credentialed technicians play a vital role in assisting veterinarians and providing one-on-one care to clients' pets. Further, they often play the part of go-between for veterinarians and clients, ensuring that clients are educated on any health issues discussed with their veterinarian, and answer any follow-up questions.

"Veterinary technicians are the glue that holds our practices together and are integral to the day-to-day function of our hospital," said Rarebreed COO and co-founder, Sean Miller. "We understand that their jobs can be demanding and stressful – it takes a special kind of person to do what they do, and we are committed to making them feel valued every day."

While dealing with burnout, compassion fatigue, and the day-to-day stress of working with clients and pets in a busy practice, credentialed veterinary technicians strive to provide the highest level of care – making them an asset to any veterinary practice, large or small.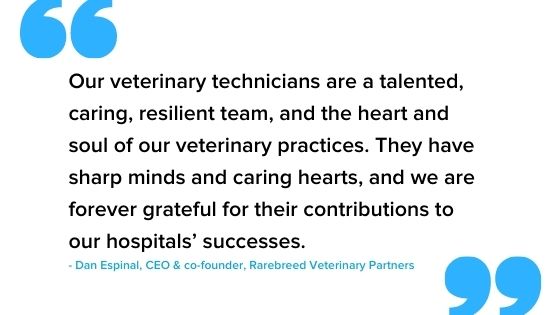 Encouraging self-care for veterinary professionals
With burnout being a huge concern for practices across the country, made even more problematic due to the high stress of rapidly adapting to continuous changes brought on by the pandemic, it's essential that veterinary practices prioritize self-care and a healthy work/life balance for technicians. Not only is this beneficial to employees, a focus on self-care and wellness also makes a positive impact on the business of veterinary medicine. Happier employees are less likely to leave a practice or the industry and are less likely to succumb to compassion fatigue.
But how can the average veterinary practice ensure that their employees are well? Often, it can be as simple as just acknowledging the existence of burnout and offering tips to fight it. Ginny Gill, DVM DACVIM (oncology), director of wellness and sustainability for Rarebreed Veterinary Partners, offers this advice:
"Consider instituting a 'Going Home Checklist.' This can be posted by the time clock, at the employee exit, in break areas, or kept anywhere it will catch your eye before heading home for the day. It can help with the transition from work to home reminding us to leave the tough parts of the day behind. It asks:
What was something difficult you encountered today? Acknowledge it and let it go.
What are two or three things that went well today? Congrats!
How is the rest of your team? Does anybody need a check-in before you leave?
How are you? Do you have the avenues for support for what you need?
Encourage your leadership to adopt a Zero Tolerance policy. Or if you are in leadership, lead the way by developing a Zero Tolerance policy."
Additionally, Gill suggests investing in resiliency training, finding self-care outlets away from the work environment, and talking to a mental health professional as effective ways to prevent or deal with burnout.

With one of the highest employee turnover rates – the average veterinary technician turnover rate is 23% - veterinary practices need to understand and address the reasons behind burnout and offer realistic solutions to employees in order to maintain a well-run, successful hospital.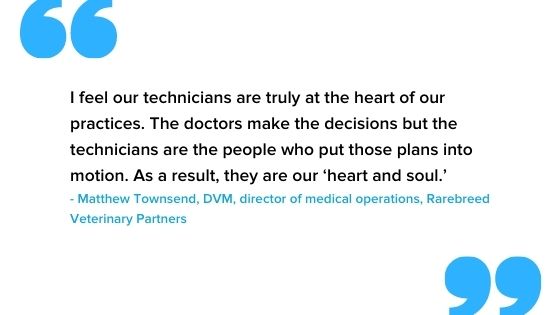 Invest in your veterinary technicians through training
Training and upskilling aren't just important to ensuring your veterinary staff is highly skilled and capable of performing their job duties with confidence. Training and upskilling are critical for an employee's feelings of self-fulfillment and job satisfaction and provides them with opportunities for career advancement. According to Linda Elliott, LVT, Rarebreed's clinical training manager, training also can:
Help instill confidence in their ability to perform more complicated or complex procedures. That ability directly correlates to higher pay.
Make work fun by keeping it challenging and interesting.
Create a strong veterinary healthcare team, and a strong team is the best support during difficult times.
By investing in a dedicated training program for your practice staff, you're investing in your employees and your business.
Celebrate National Veterinary Technician Week with Penn Foster
The theme of National Veterinary Technician Week 2021 is "Who We Are When the Stethoscope Comes Off," focusing on how critical self-care is to staying healthy, happy, and thriving in the veterinary field. Veterinary technicians are absolutely vital to the practices and patients they serve so, along with veterinary hospitals, clinics, businesses, and schools around the country, we're celebrating these important professionals. To learn more about Veterinary Technician Week, or the Penn Foster Veterinary Technician Degree Program,
follow our LinkedIn page
today.