Thought Leadership Series: The Upskilling Impact EmployBridge's Better WorkLife Academy Has Made In 5 Years
Posted by Lauren Stash on August 24, 2022
Elizabeth Crain has seen first-hand what the power of upskilling people for their dream careers can do. As the Program Manager for the Associate Experience & Retention Department at EmployBridge, she manages all the Better WorkLife Programs and other associate retention and recognition programs.
The Better WorkLife Academy, in partnership with Penn Foster, is the pathway for over 31,000 associates to move on and move up toward their biggest goals – and it's celebrating 5 awesome years of existence!
Elizabeth shares with us the work she and her team do to upskill America's workforce and change lives, some milestones from the last 5 years, and what's next!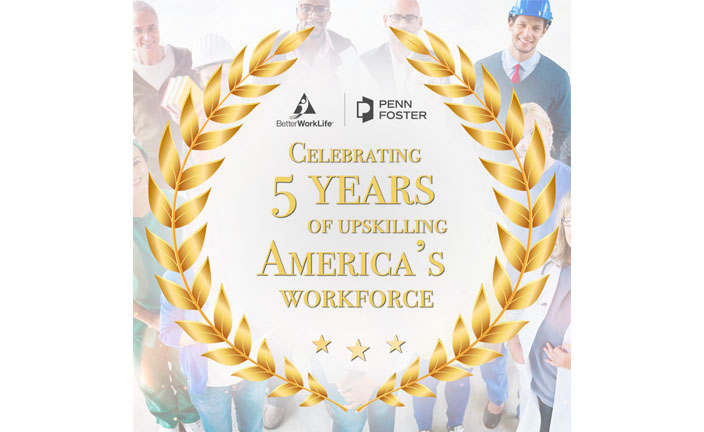 How would you sum up what EmployBridge is?
Elizabeth: EmployBridge is a staffing industry leader committed to developing and delivering a stronger workforce. EmployBridge strives to not only provide unmatched industry expertise, but to create a better work life for temporary associates and deliver holistic workforce solutions to the supply chain and service industries.
What is the Better WorkLife Academy?
Elizabeth: Better WorkLife Academy (BWLA) is a suite of free online courses offered to associates with 80 or more hours of work. BWLA was created in response to address America's skills gap. The Better WorkLife Academy allows associates to increase their skills, demonstrate focus and discipline, and show dedication to improvement.
What does it mean to you to be celebrating 5 years of the Academy?
Elizabeth: Celebrating 5 years of the Academy means over 31 thousand associates are upskilling themselves! It means over 49 thousand different skills attained! Better WorkLife Academy has been making an impact in our associate's lives and I am committed to continuously improving the program to continue to upskill America's workforce!
What are some of your favorite highlights from the last 5 years?
Elizabeth: When we kicked off Better WorkLife Academy in 2017, there was so much unknown! We had no idea how many associates, if any, would enroll in the courses. What a milestone when we exceeded any - and all expectations with massive adoption of the program! We recently added 8 NEW courses based off associate feedback and it has been a major highlight to see those enrollments coming in rapidly. Hitting 30 thousand enrollments in the Academy was one of the biggest milestones we have reached with Better WorkLife Academy. And of course, celebrating our 5-year anniversary!
How does EmployBridge work to give people the skills they need to advance in their careers and lives?
Elizabeth: EmployBridge strives to assist associates in work and life. We ensure we're reaching associates and sharing the good word about ALL our Better WorkLife programs throughout their lifecycle with us. Through email, text, mail, word of mouth, we share the opportunity of Better WorkLife Academy, Life Skills Studio, and our High School Diploma program with associates to allow them to take advantage of upskilling their life and career!
How does your partnership with Penn Foster work?
Elizabeth: The relationship with Penn Foster is the pillar of success for the Academy! Penn Foster is excellent at creating a partnership to allow creativity, brainstorming, and a path to success for both our clients and associates. Penn Foster allows EmployBridge to stay at the forefront of upskilling America's workforce by assisting in building programs specific to our associates and client's needs. We're so thankful for Penn Foster!
What kinds of outcomes have you seen in those who take advantage of training and upskilling opportunities through the Better Work Life Academy?
Elizabeth: The largest thing we see is an increase of tenure within our associates who are enrolled in courses. We see an increase in confidence in both the associate's job and learning abilities. We strive to offer many options for associates to continue to learn skills to assist them in career and life growth.
What's next for the Better Work Life Academy?
Elizabeth: We have lots planned for Better WorkLife Academy! We would like to continue to look at and offer courses that our associates are interested in. We would like to expand the career pathway option, to take the Academy to the next level! We want to continue to upskill America's workforce.
Offer new career paths by upskilling through Penn Foster
If upskilling your workforce is a positive opportunity for you, working with a proven education provider can be the key to making it happen. With Penn Foster as your partner, learners can work toward building new skills and better their lives on their schedules, from home or wherever they are. To prepare your employees to start on the path toward achieving their goals, reach out to our training experts today!