5 Strategies to Help Learners Earn a High School Diploma
Posted by Des Sinkevich on August 5, 2022
Today, a high school diploma is essential to securing a brighter future for most Americans. Without a diploma, it's difficult to find a stable, well-paying job, matriculate into a college program, or advance in a career field. To address this growing issue, many employers and social purpose organizations across the country offer a pathway to high school graduation to their workers and learners – but while the opportunity exists, some students still struggle to complete their coursework and graduate, as they may not have extra energy to spend when learning feels like an extra challenge. The key to overcoming obstacles to high school program completion lies in understanding those obstacles and alleviating those pressures where possible.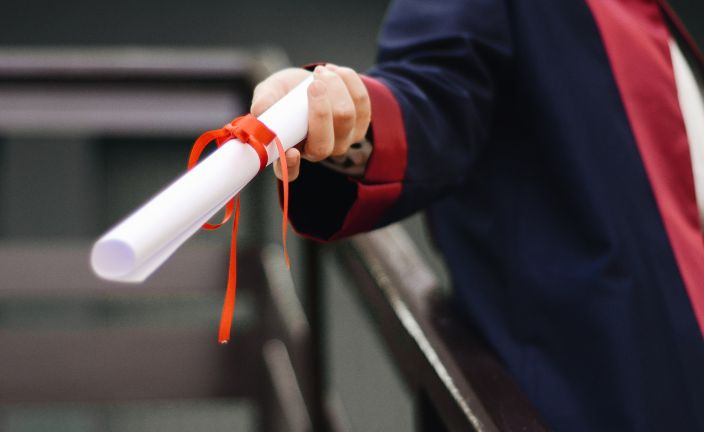 Barriers to high school program completion
While the solution of offering an online, no-cost path to high school graduation seems like it should be enough to encourage workers and learners to complete their diploma, there are often other variables that come into play preventing students from starting – or finishing – their coursework. The most common barriers that learners face include:
Time. Even with a self-paced, online high school program that can be accessed 24/7, many learners have difficulty finding the time to do the work they need to graduate. Whether juggling more than one job or dealing with family responsibilities, your learners may not have the free time to dedicate to earning their diploma – or even have the energy to tackle studying and exams after a long day.
Motivation. While learners may understand why they need their diploma, it can be difficult to stay motivated and progress through their program when they find themselves stuck on a tough concept or can't fully visualize the benefits of graduating from high school.
Lack of resources. Learners may not have access to the internet, a computer, or a mobile device that can be used to access their high school courses. Further, they may not even have a quiet space to study, the materials to take notes, or whatever else they need to successfully complete their diploma.
Strategies to overcome barriers to high school graduation
Although the challenges students face are big ones, you can play a role in helping them succeed anyway. There are several strategies that your organization can implement in order to encourage and support learners who are working toward their high school diploma. These strategies include:
Offering dedicated study time. For those learners who truly don't have extra time or energy during their day to study, offering dedicated time that they can use to do so can be especially helpful. If you're an employer who encourages workers to take advantage of your high school diploma offering, providing dedicated time during the workday to focus on courses can make a difference, even if it's only 15 minutes.
Providing study spaces. Does your organization have quiet rooms or spaces that can be utilized as study spots? Having these dedicated spaces can help learners who have a hectic home life or don't have the space to focus on their coursework find a quiet place to dig into their classes and progress through their diploma program.
Access to resources. You don't have to provide each learner with their own laptop in order to help them succeed. Simply making computers you already have available for studying can make a difference.
Support and guidance counseling. One major barrier to high school completion is simply a lack of confidence. Many students and learners who never had the opportunity to finish high school like their peers did may lack confidence and believe that earning their high school diploma is near impossible. By offering support, encouragement, and even guidance, your learners can overcome many of the seemingly insurmountable obstacles they face.
Checking in about their grades and what they've learned. Holding your learners accountable for making progress in their program and taking it seriously can be the push they need to stop procrastinating. Rewarding good grades and progress can be another way to make sure your learners are sticking with it.
Besides implementing these strategies, it's also important to remind learners of the benefits of completing their high school diploma. When they're in the thick of a frustrating course or feel like they don't have the time to complete their classes, remind them that they don't need to rush. A self-paced program means that they don't have to feel pressured or stressed doing more than they can.
Even further, reminding them about the advantages of having their diploma can be a great motivator. From the ability to earn more to the opportunity for advancement and promotion at work, a high school diploma offers tangible benefits that can help learners improve their lives and start on the path to reaching their biggest goals.
Offer a pathway to high school graduation at your organization
Whether you're a college looking to increase matriculation rates, an organization looking to help opportunity youth, or an employer who wants to create an internal talent pipeline, offering the chance to earn a high school diploma to your learners or workers can help you grow your organization. Through our fully accredited, online high school diploma program, your learners can take the next steps toward future success at their own pace. To learn more about how Penn Foster High School has benefitted organizations like yours, or to learn more about how you can offer education benefits, reach out to one of our training experts today!