How to Handle the Great Resignation in 2022
Posted by Des Sinkevich on January 12, 2022
In addition to changing how we work and live, the pandemic has empowered workers to expect certain things from employers including a living wage, the option for remote work, and an emphasis on work/life balance. In September, nearly 4.4 million American workers left their jobs – some not even having a new position lined up. While it could be easy to draw a correlation between the worker shortage facing retail and foodservice industries specifically – even in a normal economy, these jobs have some of the highest employee turnover rates – the current employee exodus is more far-reaching, impacting mid-career workers in skilled and higher-level roles in technology, business, administration, and more.
Combined with the worker shortage, the rising number of resignations is cause for concern for many employers who are scrambling to fill open jobs while attempting to retain current employees. This Great Resignation, which began over six months ago, is expected to continue to impact the workforce and economy well into 2022. Here's what that means for your business.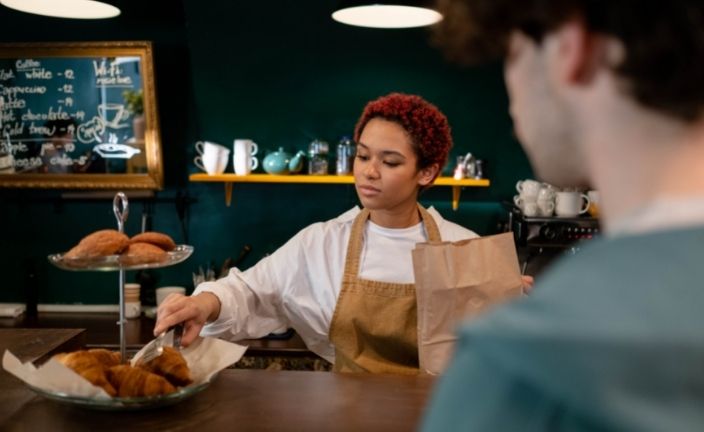 What caused the Great Resignation
While some blame the inception of the Great Resignation on the idea that "people just don't want to work," citing extended unemployment benefits as a major hindrance to getting workers into jobs, the reasons behind the movement are far more complex. What's really motivating workers to quit their current roles and leave behind established careers for new opportunities? A few of the major factors behind the Great Resignation include
Burnout. For those workers in frontline healthcare, retail, hospitality, and foodservice, the pandemic has accelerated the burnout that many in service-related roles feel. Faced with demanding customers, long and uncertain hours, staff shortages, inadequate pay, and other challenges, workers in these roles have reached their limit. Deciding to prioritize their mental and physical well-being over a job that can't always fully accommodate worker safety, more and more employees are taking advantage of the numerous new job opportunities available in other industries.
Pandemic epiphanies. The time spent in lockdown and isolation during the beginning of the pandemic has caused many people to reevaluate their lives and goals. Workers reconsidered what their dream jobs were, and then took steps to reach those goals, including completely changing the industry they work in, going back to school, investing in other career training, or starting their own businesses.
Flexibility and safety concerns. While those businesses that could transition to a remote work model did, many other companies rely on in-person business to thrive. For those workers in roles that require them to go into work, safety concerns or worries that their company isn't adequately protecting employees through masking and vaccination policies are causing them to look to remote job options elsewhere.
Workers who wanted to quit pre-pandemic. Some workers may have been looking to quit their jobs for new opportunities before the start of the pandemic but had to push pause on their career moves due to shutdowns and early pandemic uncertainty. Now, with more jobs available than workers to fill them, it's the perfect time for many to leave their current roles.
Addressing the various reasons behind the Great Resignation is the best solution to retain your current employees. Putting into place long-term policies that reflect what workers are looking for in a company can help you attract new, talented employees.
Remaking what it means to work in America
As we begin a new year, the Great Resignation doesn't seem to be losing steam. In fact, many predict that this trend will continue well into 2022. Added to the typical volume of turnover that can be expected at the start of a new year – many workers resolve to leave their current jobs for better opportunities – employers can expect to continue dealing with a massive worker shortage and higher than usual turnover rates.
To stem the tide of surging resignations, employers must look to resolve the reasons behind the Great Resignation. That may mean remaking what it means to work in America.
With workers gaining more power in a competitive labor market, it's vital that employers understand and implement changes that these workers are looking for – especially if they hope to continue to attract top talent and retain dedicated employees. Depending on the industry, that could mean offering more flexibility when it comes to where people work and develop their skills. For example, is it necessary for the business to have all employees work in the office five days a week to get work done? If not, offering flexibility to work from home some, if not all, days per week can be an effective way to retain workers and increase productivity.
Further, workers aren't just looking for a job that pays well; they want work that has a purpose, work that allows them to grow and reach their goals. Offering education and training benefits that allow employees to learn and expand their skillset from home can have long-term benefits, creating an internal leadership talent pool and attracting new employees who want the opportunity to further their education. Online training opportunities are ideal for those employers who rely on workers to come into the workplace to handle clients and customers on a regular basis, allowing them to advance their skills outside of their scheduled shift.
Work with a trusted training partner
Completing changing your company model to support more remote opportunities and offer flexibility to workers can take time. Implementing an education benefits program, however, can be a straightforward, quick solution to begin addressing some of the issues that may be fueling the Great Resignation. Through online courses in a variety of career-focused skills, employees can learn and grow while feeling supported and appreciated. By working with a trusted training partner like Penn Foster, you can offer programs that support your employees' career growth while attracting new, talented workers. To get started, contact one of our training experts today!