How to Prepare High Schoolers for a Hybrid Workforce
Posted by Des Sinkevich on May 27, 2022
Today, the future of work looks different than we would have imagined even a few years ago. More employers are offering the opportunity for remote work, while more workers are demanding flexibility in the workplace. With an increase in companies utilizing a hybrid work model, it's essential that students are prepared for that before leaving high school.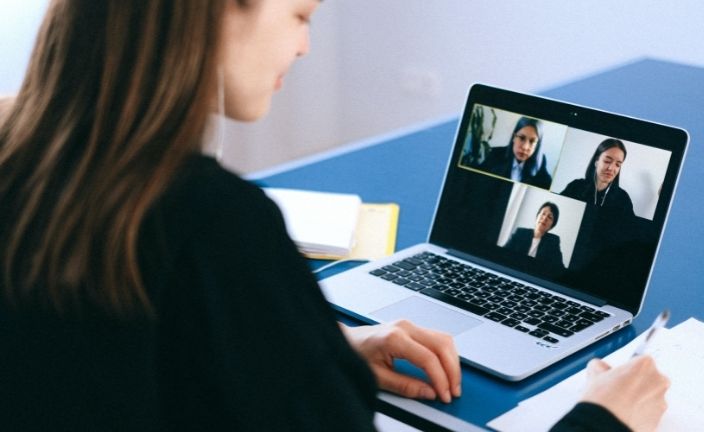 Why high school students need to prepare for a hybrid workplace
Despite some challenges, a hybrid work model has become preferred by many workers – and a majority of employers. In fact, as of February 2022, 74% of companies in the United States are currently using or planning to implement a hybrid working model. With more businesses beginning to utilize technology to embrace remote work, it's essential that the workforce is prepared to meet the new challenges that the future of work presents.
Preparing high schoolers for the future, then, will involve more than ensuring they're ready for college or know how to write a strong resume. In order to build a successful future workforce, providing learners with a strong foundation in the necessary skills for navigating a hybrid workforce is a must.
What is hybrid work?
Hybrid work is a model that allows employees to work remotely part of the time with the expectation that they will also work partly in the office or physical workspace. Usually, workers are expected to work in-office around 2-3 days per work week, with the ability to work remotely for 1-2 days per week, though a hybrid schedule can vary based on employer and business needs.
While this type of working model can't necessarily be implemented in industries that require hands-on, in-person work like manufacturing, trades, and retail and foodservice, it's becoming a popular solution to address workplace stress and burnout for those employees in many other sectors, from IT to certain healthcare roles.
Besides alleviating some workplace stresses, implementing hybrid work models offers other benefits like
Reduced turnover
Increased productivity
A benefit to attract talent
What skills do students need to develop now to succeed in a hybrid work environment?
A shift toward more remote work opportunities presents new challenges for those entering the workforce and impacts the types of skills employers may prefer when considering potential hires. Besides needing job-specific skills to stand out to these potential employers, workers will need stronger soft skills and digital skills than those that could have previously been learned on the job.
The key skills needed for success in a hybrid work environment include
Strong time management skills
When working remotely, strong time management skills are a must for success. While a hybrid work schedule will offer the opportunity to work in an office setting, one in which it may be easier to manage tasks under supervision, being able to also manage their own time and projects effectively will be vital during remote workdays.
Excellent communication skills
With the distance that often accompanies remote work, being able to effectively communicate with coworkers and managers is essential. Whether that communication involves calls, emails, or chats, having the ability to clearly discuss daily tasks and potential barriers to success is important to ensuring work gets done and gets done well.
For those who aren't comfortable with open communication, remote work may not be the best fit. This is also a skill that can be learned and developed if someone has potential.
Ability to work independently
Whether the job requires constant collaboration or can be done alone, being able to work independently with limited guidance and supervision is vital to successfully navigating remote work. If a worker needs constant input and direction from coworkers or management to complete their work, productivity and quality can be negatively impacted.
Adaptability
In a hybrid work environment, adaptability is key. When transitioning from the office to working from home – or wherever there's an internet connection – being able to quickly adapt to changes in environment and work processes can make a hybrid worker more successful and productive.
Digital and technology skills
Navigating different computer applications, effectively using messenger apps for work communication, and understanding how to quickly learn to use new software programs can make working remotely easier for both workers and employers. While in an office setting, employees are expected to know and understand some digital basics; that understanding is even more vital to successful remote work.
Employees don't need to be IT geniuses, but knowing how to troubleshoot simple problems and when to contact the company's IT department for help makes working from home go more smoothly.
How high schoolers can use online education to prepare for the hybrid workforce
While schools can implement coursework and classes that build these skills in traditional settings, online education opportunities can sometimes be more impactful.
Through an online high school platform like the one offered by Penn Foster, students can develop time management, communication, digital, and adaptability skills independently, reflecting what they may expect to see when they begin to build their careers. While they'll complete a traditional high school diploma curriculum – or one focused on starting a specific career path – students will need to learn to manage their study time through self-paced classes and set and meet their own goals. In addition, online coursework can help learners become more comfortable with using digital resources to solve problems, helping them build the independence that's so vital to hybrid work experiences.
Besides utilizing online education to prepare learners for the future of work, schools and organizations should incorporate information about hybrid or completely remote work environments into their career preparation and guidance activities. While not every career will allow for remote work, with the current demand for flexibility and work from home opportunities from the workforce, it can only be expected that more and more employers will implement hybrid work schedules going forward.
Partner with an online high school program to prepare students for the future
Online high school not only offers the opportunity for schools and organizations to increase their graduation rates – it can also effectively prepare learners to build the in-demand skills future employers will expect from top talent. With Penn Foster's accredited high school diploma options and individual courses, your organization can offer a strong foundation for future success. To learn more about Penn Foster High School and how offering online education can benefit your learners and the workforce, reach out to one of our training experts today!