Improve the Healthcare Worker Shortage Through Online Training
Posted by Des Sinkevich on September 6, 2022
Because of the pandemic and stressors placed on short-staffed healthcare teams, turnover for healthcare workers has increased – 20% of healthcare workers have quit their jobs since the start of the pandemic. By 2027, it's expected that there will be a shortage of more than 3.2 million healthcare workers in lower-wage jobs including medical assistants, home health aides, and nursing assistants.
Without these essential workers, more stress is placed on an already struggling healthcare system – and can negatively impact the quality of patient care in doctors' offices, hospitals, and urgent care clinics. With the growing need for skilled healthcare workers, how can you attract new hires while increasing the retention rates of current employees? Providing training and continuing education opportunities could be the solution.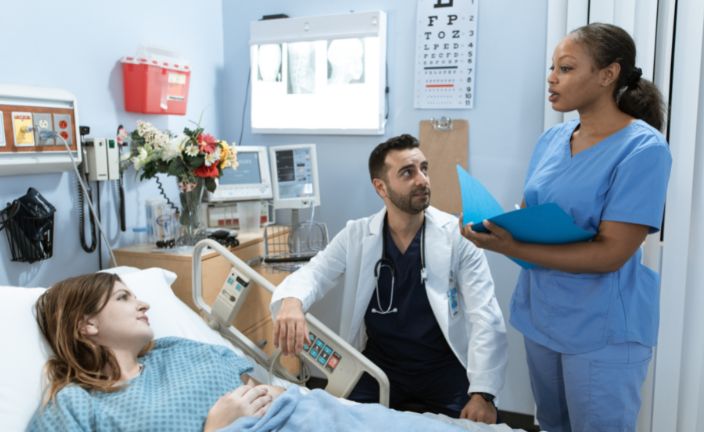 Why is there a shortage of healthcare workers?
The current and continued shortage of healthcare workers can mostly be attributed to the stressors the pandemic placed on the healthcare system over the last few years. Increased levels of stress, longer hours, and an increase in patients have led to burnout, compassion fatigue, and mental health concerns - driving formerly dedicated healthcare workers to seek a solution – a new, less stressful career.
Even before the pandemic, a push toward a more businesslike approach in healthcare placed more stress on doctors, nurses, and allied health workers. In order to increase the bottom line of health systems, medical workers needed to take on more patients and work longer hours, leading to these workers being overwhelmed and disenchanted with the healthcare system as a whole. Many have even forgotten what made them pursue a healthcare career in the first place.
In order to stop the hemorrhaging of vital healthcare workers, it's essential to address the causes behind it and work to attract new, dedicated professionals, while keeping the ones you still have.
How training and continuing education benefits healthcare workers
While education benefits and continued training alone won't completely solve the worker shortage, it can alleviate some of the burdens many healthcare workers carry – improving their skills and quality of care for patients, reducing the frustration that comes with meeting roadblocks they don't have the knowledge to get past. Through formal training programs and education benefits, healthcare workers can improve their skills, giving them more confidence on the job, and building the skills that are needed for promotion in their field. Education benefits can also do the following.
1. Education benefits can ease burnout
With longer hours and more shifts due to staffing shortages and healthcare emergencies like the pandemic, workers are overwhelmed, exhausted, and facing burnout. Burnout, which is the workplace "syndrome" that leads to mental and physical exhaustion, a lack of engagement, and, often, quitting, is a major issue affecting almost every industry. In healthcare, where work is constant and stressful situations happen every day, burnout is even more likely to occur.
Besides hiring new workers and ensuring you're fully staffed, making sure your employees have the skills they need to handle stressful situations can be helpful in eliminating burnout. When employees, especially healthcare workers, are confident in their abilities, they're less likely to be stressed about accomplishing a goal or completing their duties.
2. Continued training can improve skills healthcare workers may be missing
Healthcare is an ever-evolving field and even the most dedicated employees can struggle to keep up. By offering opportunities for continued training, you can help your healthcare team stay up to date with relevant new skills and provide a refresher course for skills they currently possess. Additionally, some of the courses you provide in an education benefits program could qualify as continuing education credits which are essential for recertification, allowing your team members to keep up on their credentials without having to search out other programs.
Inspiring new and current healthcare workers
Education benefits provide another beneficial outcome: inspiring new and current healthcare workers. While burnout, overwork, and compassion fatigue can cause workers to reconsider whether the healthcare field is right for them, education and training can be a reminder and a motivator. It's also an opportunity for your office, clinic, or hospital to show that you're invested in employees' growth and well-being. Through some training programs, current employees can take the next steps toward promotion, building a strong internal talent pipeline that will benefit your organization in the long-term.
Further, a strong training program can be beneficial to your organization. Research has shown that there is a 20-40% increase in retention among employees who take advantage of employer-sponsored education benefits.
Partner with a trusted training provider to improve your healthcare team
The shortage of skilled healthcare workers can have a larger impact on the medical field as a whole over time. In order to repair this shortage and encourage new workers to join the industry, offering a formal education and training program is essential. Besides attracting new hires, education benefits can improve current employees' skills and confidence, alleviating some of the symptoms of burnout. To learn more about how Penn Foster's online healthcare training programs can make a difference in your practice or hospital, reach out to one of our training experts today!