3 Ways to Stay Competitive in the 2019 Hiring Market
Posted by Penn Foster on January 30, 2019
The United States ended 2018 with some of the lowest unemployment rates seen in decades. This great news for the economy brings challenges for businesses trying to fill open positions or expand their workforce. Coupled with the low employment rate, the skills gap has also made hiring all the more difficult for employers. Tackling these challenges starts with exploring new strategies to help your business stay competitive in the 2019 hiring market.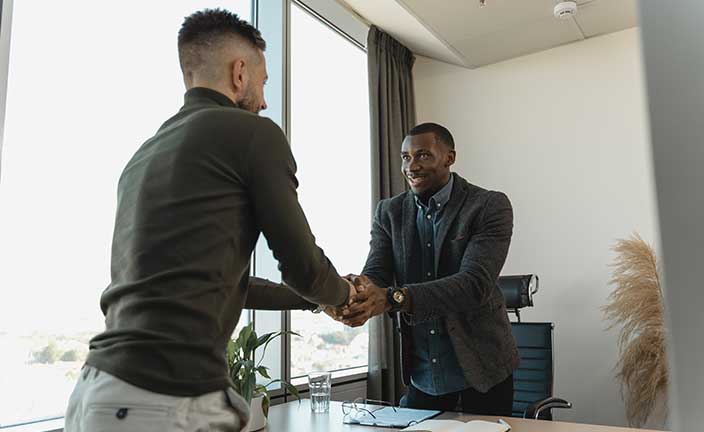 Unemployment by the numbers
The unemployment rate for December 2018 was 3.9%. Although that number represents a slight rise from the rock bottom 49-year low of 3.7 in September through November, it's still low enough to cause challenges for businesses looking to hire.
In general, any dip in unemployment rates is a good thing. It shows that the economy as a whole is healthy and recovering well from the 2008 recession. But too much of a good thing can cause problems. With unemployment rates below 4%, businesses may struggle to find the workers they need to fill open jobs.
The Bureau of Labor Statistics reports that there were 7.1 million job openings in October 2018, while the number of hires edged up to just 5.9 million. It doesn't take any special math skills to realize that businesses were left with 1.2 million jobs unfilled in October.
With the number of job seekers so much smaller than the number of jobs, businesses may struggle to find people to fill open positions. At the same time, businesses with plans to grow and expand find themselves unable to do so because they can't even find workers to fill the jobs they already have, never mind the new ones an expansion would add. An Inc. survey found that almost two thirds of entrepreneurs say finding and retaining good people is the biggest obstacle standing in the way of business growth.
According to a CNBC report the industries adding the most new jobs in 2018 included: healthcare, food service, construction and manufacturing. Businesses in these growing industries may face an even greater than normal challenge in finding skilled, qualified employees to fill open jobs.
Strategies to Fill Open Jobs
Ten years ago, businesses could be fairly confident that any new job they posted would soon be filled. There were plenty of people looking for work. Now, that the market is tighter the outcome is less certain. Businesses that want to remain competitive need to get creative if they want to attract and retain employees. Here are three creative strategies that can help businesses fill open positions.
Strategy 1: Increase benefits to stay competitive
The most obvious way to attract new employees is to offer better benefits or higher salaries than the competition. Average hourly earnings for employees in the United States increased just 0.8 percent from November 2017 to November 2018. If you're able to increase salaries at faster than the average rate your business will stand out to job seekers.
Meanwhile, the landscape for benefits like health insurance has been complicated by government legislation. Fringe benefits can make a difference, but they also add a logistical challenge that not all businesses are open to tackling. In this environment, even small increases in benefits can make a big difference to job seekers. If you have the budget to increase employee salaries or benefits, you'll likely find that the results are well worth the investment.
However, not all businesses have enough resources to increase salaries or benefits across the board. In the Inc survey referenced above, small to medium businesses found it particularly hard to fill jobs and retain people. They simply don't have the resources to offer bigger salaries or standout benefits. Fortunately, these businesses can employee other strategies to stay competitive in the market.
The takeaway: Upgrade employee benefits and improve salaries where you can, but know that you can still compete even if you don't have a huge budget for pay increases.
Strategy 2: Turn to staffing firms
As finding qualified job candidates becomes more difficult, employers are increasingly turning to staffing firms to fill open positions. In 2017, total staffing and recruiting industry sales increased 4.4%. There's every reason to expect that the final numbers for 2018 will show similar growth.
While outsourcing the task of hiring to a staffing firm relieves your business of the headache of finding qualified staff, it's not a perfect solution. Staffing firms are not immune to the effects of low unemployment. They also have more jobs to fill than they have qualified workers to fill them. In general, hiring a staffing firm is a way of addressing the symptom - the stress and expense of finding a qualified employee - without addressing the disease - too few qualified employees in the market.
If you do partner with a staffing firm, choose one that is willing to invest in temporary employees. Some progressive staffing firms are providing contract workers with training and upskilling opportunities to make them more valuable candidates. For example, the staffing firm EmployBridge has created the Better WorkLife Academy in partnership with Penn Foster to help address the skills gap. So far, the results are overwhelmingly positive. Temporary employees from EmployBridge are happier and more qualified. They even stay in their jobs longer.
The takeaway: Building a relationship with a staffing firm that invests in temporary employees. Look for one that provides its contract workers with training and upskilling opportunities.
Strategy 3: Change hiring criteria
Stringent requirements around the years of experience or level of education required for a role can shrink your already small applicant pool. By making your hiring criteria more flexible, you open up your options, giving you more candidates to choose from.
Some business owners may balk at this because it sounds like settling for less, but changing your hiring criteria doesn't have to mean lowering your standards. It just means you need to offer employees more opportunities for growth and development. For example, if a job traditionally required applicants to have a bachelor's degree, you might start accepting applicants without a degree and then providing education benefits or other training opportunities to fill the gap. If your business is a veterinary clinic, you might hire someone who has the potential to become a certified veterinary technician and then help them access the training they need to earn the certification.
This more flexible approach brings with it a valuable side benefit. Not only will you widen your pool of potential candidates, but the employees you hire may be more satisfied and stick around longer. You let them know that you value their development. You saw their potential to learn and grow and you helped them do so.
The takeaway: Adjust hiring requirements to remove educational barriers. Find a training partner or program that can help you quickly upskill both new and existing employees. Not only will you have a more qualified workforce, but they'll be more likely to stay with your company since you've proven you value them.
A partner in employee development
These three strategies work best when combined. Increase benefits and pay where you can, find a staffing agency you trust, and provide learning opportunities to new and existing employees. This three-pronged approach can be adjusted to fit your business and your budget. By applying these three strategies, you'll be better able to find and keep employees in the 2019 hiring market.
A learning partner can help you make sure your employees get the right training for the job. Penn Foster will help your employees earn the professional certification, associates degree, bachelor's degree, or high school diploma they need to succeed.