The Lasting Impact of the Pandemic on the Pharmacy Industry
Posted by Des Sinkevich on August 31, 2021
The COVID-19 pandemic has drastically altered the way we live and work. The healthcare industry in particular has grappled with dramatic shifts in policy, procedure, and patient care over the last year and a half. While vaccine production and distribution has provided much needed relief and protection against the virus, allowing the country to return to something that feels more normal, many vital roles in healthcare will be dealing with the impact of the pandemic well into the future, including pharmacy workers. As we move forward, pharmacies in both retail and hospital settings are emerging as more crucial than ever.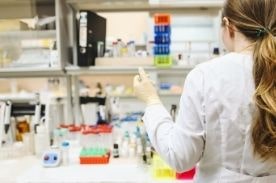 How COVID-19 changed the role of pharmacies
Prior to the emergence of COVID-19, the roles of pharmacists and pharmacy technicians were already in flux, with pharmacists taking on a more patient-focused role and delegating other tasks to credentialed technicians on their team. While roles were shifting in retail and hospital pharmacies, the onset of the pandemic ushered in new changes, and pharmacy workers were recognized as truly essential. Communities relied on their local pharmacy for direction, medical advice, COVID testing, and vaccinations.

Besides the essential day-to-day tasks pharmacists and pharmacy technicians are responsible for, they were also dealing with an influx of phone calls from worried clients. Kristy Malacos, the Executive Director of Ancillary Services at Comprehensive Pharmacy Services of Magruder Hospital, shared that, "People were scared and didn't know where to turn to and that really did impact staffing, [even just] answering those phones while trying to maintain business."

Vaccine distribution added another layer of responsibility. Credentialed pharmacy technicians in some states were empowered to administer vaccines to patients, while technicians in others shouldered more tasks traditionally performed by pharmacists to allow them more time to administer vaccines. Pharmacy technicians were called on to be more adaptable than ever.

As the world is slowly easing back to something approaching normal, the new responsibilities of pharmacy technicians seem to be here to stay. That means training and hiring processes for pharmacies in both retail and clinical settings need to adapt.


Finding an effective training solution for pharmacies
We've all had to adapt to new policies, a shifting economy, and drastic changes in our ways of life over the last year and a half. For pharmacies and other healthcare facilities, that means a shift in how we view training and credentialing in the field. Whether working in a state that requires licensure for pharmacy technicians, or in a state that simply requires on-the-job training, all technicians should be prepared to provide vital assistance to pharmacists and patients. The best way to do that? In-depth training programs.
Besides effectively preparing new or current employees to take on the new roles and responsibilities required to handle an influx of patients and vaccinations, offering industry-recognized training can provide an incentive for job applicants. In an economy that is slowly recovering, with workers more aware than ever of their worth to employers, offering education, training, and other benefits can make a difference when sourcing quality talent. An ASHP-accredited program like Penn Foster's
Pharmacy Technician Career Diploma
can not only entice new hires and improve retention rates, it can help employers ensure that their pharmacy team is ready for anything that comes their way.
Planning for the future
With Penn Foster's flexible, online courses, employers can prepare their workers to meet demand and fill crucial roles. Read more about effective staffing strategies and solutions for the pharmacy industry in
our latest eBook
or
contact a Penn Foster training expert
today for more information!