How the Healthcare Industry Has Changed One Year into the Pandemic
Posted by Michelle Ecker on June 24, 2021
One of the many ways the US felt an impact of COVID-19 has undoubtedly been a large jolt to, and spotlight on, the infrastructure of the nation's healthcare industry. In a matter of months, prior assumptions and behaviors regarding how Americans work within the healthcare industry, and receive care as patients, came into question as we were forced to reimagine and reshape job productivity and patient care. Doctors across the nation are newly relying on telemedicine to allow them to see a greater number of patients remotely. The bandwidth and workflow within each individual medical facility across the nation has been uniquely pressured and challenged.
STAT, a publication providing exclusive analysis of biotech, pharma, and the life sciences, recently surveyed a number of prominent health policy experts to explore their thoughts on how the pandemic has
altered the way we imagine healthcare
moving forward.
One of the largest predictions here pointed to an increasing comfort with, and reliance on, telemedicine. Many experts on healthcare infrastructure and operations suggest that healthcare providers have been slowly moving toward a greater reliance on telemedicine for a time now, but that the impact of COVID-19 pushed this timeline ahead at an immeasurable speed.
According to STAT's survey, Chris Jennings, policy consultant and former health care adviser to the Obama and Clinton administrations shared,
"There's the assumption in primary care that you always had to have in-person contact, and that telemedicine would be unsatisfactory, or wouldn't fill the void. That's been exposed — actually, it's safer, it's quicker, and it's easier."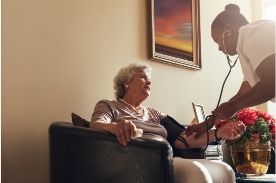 An emphasis on home health aides vs nursing homes
Another element of healthcare that COVID-19 suggested a reimagining of was the reliance on nursing homes versus
home health aide
care. The statistics regarding COVID-19 related deaths in long term care facilities and nursing homes have been an extremely sobering check to the status quo on how- and where- we care for the elderly in our nation. According to the
COVID Tracking Project
, about 8% of people who live in US long-term-care facilities have died of COVID-19- nearly 1 in 12. For nursing homes alone, the figure is nearly 1 in 10.
For many people, this pandemic shined a light on the potential issues involved with housing the elderly and vulnerable in such close quarters as is typical of nursing home facilities like these. It's unsurprising that for these reasons we may see families feeling skeptical towards opting into this type of care arrangement, and preferring instead to look into the value of hiring a
trained home health aide
instead.
Shining a light on health emergency preparedness
Unsurprisingly, one of the largest ways our nation's healthcare infrastructure was potentially changed by the pandemic was due to our current emergency preparedness model. As STAT shares, leaders have already been discussing ideas for how to increase the health care workforce in times of emergency, because the reality is the workforce was ill-prepared to manage the sheer quantity of care needed during the pandemic.

To provide context, the average job growth rate across all industries is generally considered somewhere between 5 and 8%, and growth rate of between 9-13% is typically described as "faster than average." In 2019, before the COVID-19 pandemic had even reached the US, the Bureau of Labor Statistics (BLS) was already reporting a staggering 19% predicted job growth rate for medical assistants - with 725,200 Americans already working as medical assistants at that time.

It's easy to imagine how a skills and talent gap within the healthcare industry leaves us especially vulnerable in such crises, and how said crises jump start our planning on how to proactively combat said skills gaps moving forward.


How Penn Foster supports upskilling at scale in the healthcare industry
If your organization is currently rising to meet the new challenges presented to the healthcare industry throughout the COVID-19 pandemic, consider connecting with an expert at Penn Foster to explore how our pragmatic, results- driven training solutions could help solve for these issues.
Help new hires build essential skills or support your existing employees by providing them the training needed to upskill and earn industry credentials by connecting them with online learning opportunities. To find out more about how healthcare training programs can make a difference for your facility,
contact a Penn Foster training expert
today.