Home Health Aide
Career Diploma
Accredited
Home Health Aide Training For Your Employees
The Home Health Aide Career Diploma Program effectively prepares learners to assist clients with Activities of Daily Living (ADLs) and Instrumental Activities of Daily Living (IADLs) in a private home or community setting. Aligned to market and employer needs, the program includes courses sequenced for your learners' success, and a required externship to help students gain necessary hands-on experience.
Learners develop the fundamental skills to be successful in their role as a home health aide in your organization.
Learners complete a required 40-hour clinical externship to ensure job readiness.
Includes a practice lab blood pressure kit to assist learners in applying what they study to real-world situations.
Includes wraparound learner support and access to instructors and coaches, ensuring your learners or employees successfully progress through training.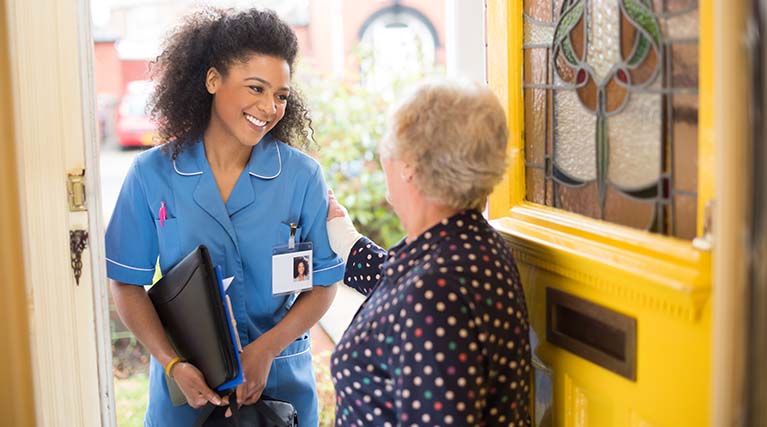 What Your Learners Will Study 
The therapeutic communication skills needed in order to work effectively with clients and client families to provide excellent care and service.
The various body systems, including structure, function, diseases, disorders, and treatments as well as drug delivery systems, drug administration routes, drug classifications, and commonly used medications for various organ system disorders.
In the Home Care Procedures unit, learners will develop the skills and knowledge to provide safe home care to clients, including taking vital signs and performing basic health assessments.
The law and ethical principles that impact healthcare, including the common-law basis for the confidentiality of healthcare information and the laws regulating healthcare information collected and maintained by government agencies.
Home Health Aide Training Curriculum
25 exams
1 project
1 externship (40 hours)
9 courses
Our training program is designed to prepare learners to be an instrumental part of your home care team as a home health aide working in home or community settings. Online courses include:
Home care procedures
Body systems and medication
Nutrition
Caring for clients of any age
Caring for clients with special needs
Dealing with emergencies
Law, ethics, & confidentiality
Therapeutic communication skills
Show Full Curriculum
Our Partners
As the trusted training provider for leading employers, education providers, and job training organizations, Penn Foster designs and delivers digital and blended learning programs that attract, upskill, and retain workers in America's fastest-growing fields and professions.
How it works
Our Proven Training Model
High-quality, online skills training for your employees

Online Delivery
Digital platform allows for studying any time, any where
Content is available via computer, mobile device, or tablet
24/7 access to online resource library and knowledge base
Engaging Content
Programs include simulations, videos, and virtual demos
Varied learning methods help cement application of concepts
Real-time feedback enables efficient mastery of material
Robust Support
Self-service tools and unlimited multi-channel support
Live and recorded webinars hosted by our faculty
Access to peer-to-peer community of learners
Real World Credentials
Training programs focus on today's in-demand job skills
Content developed by professional leaders in the field
Courses align to industry certifications and accreditation
$name
According to national averages from the Bureau of Labor Statistics, employment for veterinary technicians is expected to grow 16% over the next 10 years.* That is a much faster growth rate than almost all other occupations.
$name
Penn Foster's Veterinary Technician Degree Program is one of only a few programs with full accreditation from the American Veterinary Medical Association (AVMA), through their Committee on Veterinary Technician Education and Activities (CVTEA).