How to Set Up a Wellness Program for Your Vet Practice
Posted by Des Sinkevich on April 18, 2022
Jobs in the veterinary field are well known to be high-stress roles. Burnout and compassion fatigue are common culprits behind high industry turnover, resulting in around half of all veterinary technicians leaving the profession within five years. Besides negatively impacting your practice's turnover rates, burnout and compassion fatigue can influence practice performance and the quality of patient care. One way to begin to address this issue within your practice is to focus on employee wellness.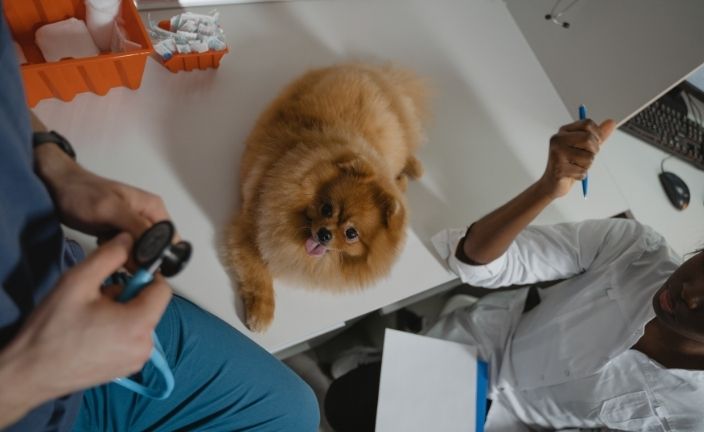 Why is employee wellness so important for veterinary practices?
Veterinary staff deal with high-stress work on a regular basis, from handling difficult patients and clients to dealing with heavy emotional work, such as euthanizing pets. Those drawn to work in the veterinary industry are already likely to be more compassionate, empathetic, and have the drive to help others. While that passion for the work they do can be helpful on the job, it also makes veterinarians, veterinary technicians, and other support staff more vulnerable to compassion fatigue and eventual burnout.
Before consequences take place like turnover and employees leaving the profession entirely, burnout and compassion fatigue will manifest in ways that are extremely detrimental to employee mental health and practice performance. These include mood swings, irritability, lack of focus or care for the work that needs to be done, insomnia, and depression. Further, employees struggling with burnout are more likely to
Call off work, putting additional stress on the employees who do come in for their shift.
Make mistakes, which can be potentially disastrous in a veterinary setting.
Change careers, leaving the veterinary industry one more professional short.
In order to combat high turnover, compassion fatigue, and burnout, a focus on employee wellness is a must for all veterinary practices large and small. Wellness initiatives can provide support for veterinary staff and include things like
Regularly checking in with practice employees. Practice owners and managers should regularly check in on employees to ensure they are doing well and are confident in their work. Managers should especially make the effort to see how employees are doing after high-stress events, like a difficult surgery or the loss of a beloved patient.
Providing programs that promote physical health and wellbeing. Physical wellbeing contributes to mental health. Programs that promote physical health can not only help staff feel better, it can help them think better!
Providing information on mental health resources and destigmatizing the need for counseling. The veterinary industry is a mentally and emotionally challenging field to be part of. Providing information to staff about mental health resources can help employees take the necessary steps to seek counseling when needed. Additionally, it's important to destigmatize issues like anxiety and depression so that employees feel safe seeking help.
Providing proper and in-depth training to employees. Employees who don't know what they're doing feel overwhelmed and incapable of performing their daily tasks. Proper training allows employees to be confident in their skills, complete their tasks, and have a stronger sense of purpose.
How to implement a wellness program in your veterinary practice
Implementing an effective workplace wellness program takes work, but the effort required to get a program in place is worth it and provides benefits to both employees and the practice. Follow these 4 steps to implement a wellness program for your veterinary practice staff.
1. Conduct surveys to find out what your employees need
Before implementing any sort of wellness program in your practice, make sure to survey your staff to ensure that any program you build meets their needs. A comprehensive survey also allows you to get a measure of the state of your employees' mental health and job satisfaction.
2. Ensure management is on board
Once you've surveyed your employees and have a better understanding of what kind of wellness program can benefit them most, you need to ensure management and practice owners are on board. Support from leadership will be essential to a successful, effective wellness program.
3. Design your program and set goals
You know what your veterinary staff needs in a wellness program and practice leadership is on board to implement it. Now it's time to design your actual program. Depending on the size of your practice and the budget allocated for the wellness program, your program may vary but in general, you'll first determine what resources and services you'll make available to employees. These can include
Stress reduction programs
Mental health services
Exercise programs
Training and education programs
For an effective program, you'll also want to set goals to measure your success.
4. Market and launch your program
A wellness program can't be effective if no one knows about it. Before launching your program, make sure to invest some time in internal marketing including sending emails, putting up posters and flyers about the program, and ensuring managers let staff know about the program. Shortly after you begin your marketing efforts, you'll launch the program!
How effective training can impact burnout and compassion fatigue
An effective component of any wellness program is training and education. While mental health services and strategies for reducing and dealing with stress are essential, making sure employees feel confident in their roles is vital.
Effective training can not only address the symptoms of burnout, reducing turnover within your practice, it can also prepare your employees for taking on new roles within the practice. While building new skills, veterinary staff can have the opportunity to advance, earning credentials which could lead to higher pay and more satisfaction on the job.
Offer proven training through Penn Foster