3 Ways Education Benefits Help 90% of Your Workforce
Posted by Des Sinkevich on August 18, 2022
Employer-sponsored education benefits and tuition assistance are, undeniably, essential to attracting and retaining a talented workforce. However, the percentage of workers who take advantage of these benefits has been historically low, with only 1-10% of employees utilizing education benefits and tuition reimbursement programs. The lack of participation in these programs can often be attributed to several factors, including a lack of awareness or lack of time on the part of the employee. For working parents, who make up 90% of the 33.6 million American families who have at least one child, time is even more of an issue - and the need for further education can be even greater.
With a lack of time and resources, going back to school to gain the skills needed to move up and be an asset to their employer is difficult, if not nearly impossible. That's why implementing an education benefits program can be vital for employers – not only does it attract new talent, it allows you to build an internal talent pipeline that can be instrumental to business growth.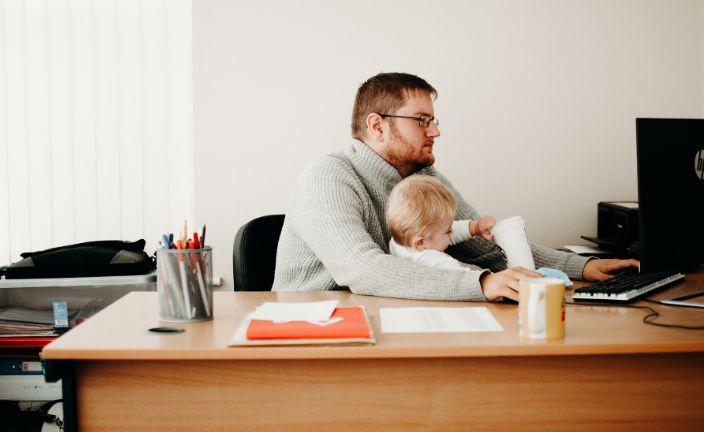 Benefits to upskilling workers who are parents
Working parents are often torn between several priorities; focusing on work and personal growth comes second to making sure their families are taken care of. That doesn't mean these workers aren't strong employees who are dedicated to doing their best on the job – it just means that they have less time to dedicate to opportunities to prove they can advance in the company. However, if given the right opportunities, these workers can become your most dedicated, hardworking team members and leaders. The "right" opportunities include the chance to further their education, develop their skills, and build their knowledge in a way that benefits the company and allows them to advance their careers.
Investing in the career development of your workers who are parents can also have long-term benefits for employers including
1. Upskilling lowers turnover rates
Employees who take advantage of education benefits are more engaged with their work. For working parents who may not be able to pursue traditional education to advance in their careers, education benefits offer a clear opportunity for professional development and may encourage them to stay longer with your company.
2. Education benefits help you retain working parents
Research has shown that education benefits increase employee retention by 20-40%. By supporting career advancement and skills attainment within your company, especially to working parents, you can retain some of your most talented employees.
3. Professional development helps you build an internal talent pipeline
Upskilling working parents allows them to gain the skills they need to advance – without having to choose between working and education. Through education benefits, you'll have stronger employees with the skills they need to become leaders in your company.
Work with a trusted training partner to strengthen your workforce
Implementing an education benefits program that works for both your company and workers – especially working parents – isn't easy. We're here to help. With Penn Foster's proven training programs, you can build an effective education benefits program that allows your employees to grow – while growing your business. Find out more about how to upskill your workers, increase retention, and build a stronger workforce by reaching out to our training experts today!