What Your Vet Practice Can Learn from Our Best Webinars
Posted by Des Sinkevich on February 24, 2022
Working in veterinary medicine means constant learning and development, whether you're a practice owner or a veterinary technician. To support learning and growth in the industry, our expert Veterinary Academy instructors, industry leaders, and partners have collaborated to share insights and training through our monthly Veterinary Academy Webinar Series. Spotlighting different industry trends and sharing our thought leadership, our top webinars cover topics from cannabis use in veterinary medicine to how telehealth can benefit veterinary practices. Catch up on what you may have missed with these highlights!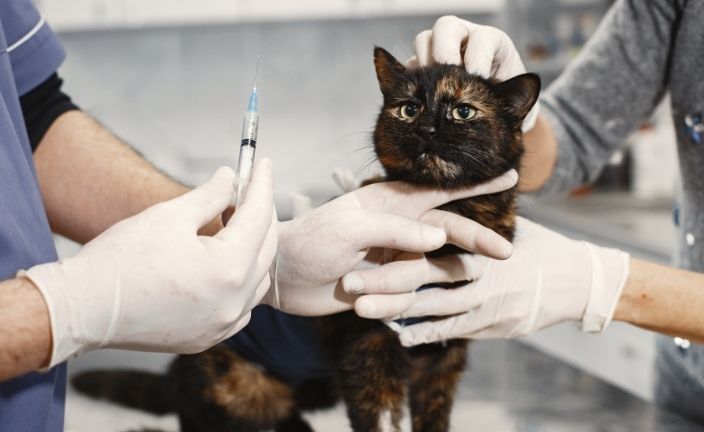 Learn more about using Fear Free in your practice
Through the Fear Free webinar series, we cover how Fear Free skills can be implemented in veterinary practices and specialties, from dentistry to physical rehabilitation. Through Fear Free's programs, veterinary professionals, animal welfare workers, and pet owners can build the tools to ensure pets have the best experience possible during office visits.
Fear Free®: Implementation in the Dentistry and Oral Surgery Service. This discussion, led by Dr. Naomi Hoyer, a Board Certified Dentist™, Assistant Professor of Dentistry and Oral Surgery and Dentistry Service Coordinator at Colorado State University's James L Voss Veterinary Teaching Hospital, covers the use of Fear Free techniques during oral exams and surgery. Learn more about how Fear Free can be beneficial to pet patients and your veterinary staff, as well as useful training techniques for your staff in this recorded webinar.
Fear Free® and Physical Rehabilitation. Physical rehabilitation is an important step in the healing process but providing proper rehab to fearful patients can be difficult, if not impossible. By implementing Fear Free techniques when working with rehab patients, your veterinary staff can ensure they receive the best and most comprehensive treatment. Learn more about using Fear Free during physical rehabilitation sessions in this informative webinar.
Implement new techniques in your practice
A successful veterinary practice stays on top of the latest trends and implements new strategies regularly in order to attract new clients and offer the best patient care possible. From adapting technology for office use to considering new methods of treatment, both large and small practices are changing veterinary medicine for the better. Learn more about the newest techniques and technology for your veterinary hospital in the following webinars.
Cannabis Use in Veterinary Medicine. Led by Liz Hughston MEd., RVT, CVT, VTS (SAIM)(ECC) and Stephen Cital RVT, SRA, RLAT, VTS (LAM), who've both done scientific research on the use of medical marijuana in pets, this discussion covers ongoing research, already available evidence, as well as present anecdotal information about the use of cannabis for dogs and cats. While cannabis is not yet widely used as a treatment option for pets, it is for humans – and many medical professionals see its use as beneficial and humane for our furry friends. Learn about its applications in veterinary medicine and how to talk to help clients make the best decision for their pets in this popular webinar.
Telehealth: A New Age for Veterinary Medicine. While telehealth has been used in the past for human medicine, it's relatively new to veterinary medicine. However, the pandemic, social distancing protocols, and overwhelmed animal clinics have made telehealth a necessity for successful practices. In this webinar, we walk through how we define veterinary telehealth and how we may further implement these practices within the world of veterinary medicine while still adhering to VCPR and Scope of Practice. Telehealth services are convenient tools for veterinary practices to optimize their daily workflow and expand client outreach and education. Telehealth services also provide a necessary resource for pet parents when they experience the unknown with their pet and are in search of direction or peace of mind. You can also prepare your staff to handle telehealth appointments with our new Veterinary Team Telehealth Training Program.
Improve retention and job satisfaction
Employee retention is vital to ensuring your veterinary practice is well run. With the increase in pet ownership over the last few years, losing even one dedicated employee can have a negative impact on patient wait times and care. Learn about strategies that can promote employee retention and workplace safety in these webinars.
Leadership Skills and Utilization of the Credentialed Veterinary Technician. One of the major reasons many vet techs leave their employers comes down to how their skills are used in the workplace. Many credentialed technicians are capable of and eager to take on responsibilities but are often not empowered to do so. Generally, that's because the veterinarians and practice managers may not be aware of what exactly a vet technician can do. In this webinar, we cover the proper utilization of veterinary technicians, as well as techniques to develop effective leadership skills.
Managing the Stress of Veterinary Medicine. It's no secret that veterinary medicine is one of the most stressful industries to work in. Burnout and compassion fatigue contribute to high employee turnover, toxic work environments, and more. Developing strategies and tools to manage the daily stress of the job is important to ensure veterinary professionals are capable and well enough to do the work they're passionate about. This helpful webinar covers strategies to keep stress at a manageable level for employees, including how to recognize and address burnout and compassion fatigue.
Stay tuned for more veterinary medicine webinars from Penn Foster
Whether you're a veterinary practice owner, veterinarian, practice manager, or veterinary technician, there's still so much to learn about the profession. Grow your skills and understanding of veterinary medicine with industry-recognized leaders and speakers in our veterinary webinar series. Follow us on LinkedIn today so you don't miss our upcoming webinars!