Thought Leadership Series: How VCA is Building Skills and Hands-On Experience for Veterinary Technicians
Posted by Lauren Stash on June 17, 2022
Julie Antonellis, CVT, LVT, VTS (ECC) recognizes that there are many people who work in a veterinary hospital who don't have the time, resources, or support to advance in their careers, although they have big goals to move up in the veterinary profession. That's why she's proud of the VCA VREC Vet Tech Academy that she directs, which is an in-person training program coupled with Penn Foster's online Veterinary Technician Program that Associates can enroll in as an employee benefit.
Julie notes, "We are incredibly proud of this program and can't wait to see the amazing things our students do throughout their education and beyond." Learn more about the ins and outs for how this program works at, and benefits VCA, and the impact it has on the lives of learners.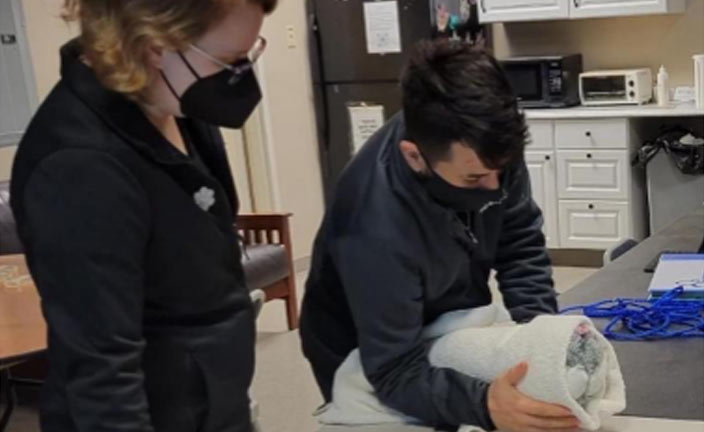 What is your role at VCA?
Julie: I am the Program Director for the VCA VREC Vet Tech Academy located at VCA Veterinary Referral and Emergency Center (VREC) in Norwalk, CT.
In this role, I've been working with Joe Beck, our Regional Operations Director, to develop the VCA VREC Vet Tech Academy where we are supporting students through the Penn Foster Veterinary Technician Program while providing in-person training and reinforcement of content that compliments their progress in Penn Foster. This approach allows students to build skills that they will need when they graduate.
Tell us about how VCA invests in employee upskilling and education. What role does Penn Foster play in that?
Julie: VCA is committed to providing educational and growth opportunities for all of our team members. It's an important way we are taking care of the future of veterinary medicine. There are many continuing education opportunities available through VCA that are free for all Associates, like the 2022 Continuing Education Program for Technicians and Assistants and VCA's Woof U with a wide variety of educational programs and activities. The students in our program love the interactive case reports found in Woof U. My manager and the leadership team often share and encourage us to participate in conferences and lectures that will build our knowledge. VCA also offers discounted tuition and sponsorships for those who want to pursue a degree in veterinary fields through Penn Foster.
I knew VCA was supportive of continuing education but didn't fully appreciate just how committed they are until we proposed the idea of the VCA VREC Vet Tech Academy. Our leadership wasn't only willing to let us move forward but were just as excited about the idea as we were.
What challenges were you facing that made you look for this type of partnership?
Julie: VCA is deeply committed to supporting education in the veterinary field. We've worked with Penn Foster for about six years and this new program is a natural extension of our existing partnership. The VCA VREC Vet Tech Academy builds on the responsibility we feel as one of the leading hospital networks to provide educational opportunities.
There are people working in veterinary hospitals who may want to become credentialed vet techs but don't pursue it. They may not have the resources or time or support to take on the challenge. We believe this program can make a difference in helping to educate and encourage people who want to realize their goals of becoming credentialed veterinary technicians.
How does the on-site classroom contribute to employee success? 
Julie: With in-person learning, we can translate the curriculum that students learn through Penn Foster and show them how to use it in real life settings. We can dive deeper into concepts that the students feel they'd like to learn more about. The students are all going through the program together and can bounce ideas off each other as you would in traditional brick and mortar tech school.
What skills do you think are most important for a veterinary technician to learn and what would it mean for VCA to have vet techs who possess these skills?
Julie: Critical thinking and great observational skills are key to the success of a future veterinary technician. In our program, we are helping veterinary professionals develop skills that will allow them to adapt to any situation they are in. We are giving them tools that they'll be able to use in any hospital. To have people graduate with not only technical skills but also hands-on experience, that's a combination that will really benefit patient care and it's something we're very excited about.
What sort of impact has this partnership had on the business directly?
Julie: We believe that this program will have a significant and positive impact – for the students who go through the program, for VCA and for the veterinary industry. Students who are trained and integrated into the hospital team will contribute to world-class patient care and overall hospital efficiency. We're also already hearing positive feedback from our own team who are supporting the program, people who have been in the field for years and are rediscovering the joy of veterinary medicine they experienced as students.
How has supporting career growth for your employees changed their lives?
Julie: We have an amazing group of students from a variety of different backgrounds. Some didn't see tech school in their future due to financial constraints, others didn't even know it was an option for them. They loved animals but never realized they could have a career in caring for them. It's wonderful to see all of them come together and find common ground in the hard work they are putting into this program.
What would you want others to know about the important impact supporting continued education and skill gain has on real people and real pets? 
Julie: Continuing education is imperative to the quality of patient care that veterinary professionals provide. The veterinary field is ever evolving, and we need to stay up to date on changes for the benefit of our patients. A clinic like VCA Veterinary Referral and Emergency Center will always be a great place to take your pet when they need specialty care in part because we are committed to supporting ongoing education, we stay on the cusp of medical advances.
What are the metrics that you use to measure the success of this program?
Julie: We're looking at the progression of the students in their coursework as well as their hands on training to help us gain a sense of student success in the program. We are pleased to see them gaining confidence while working with the hospital team. They aren't afraid to jump in to help and ask questions.
Why do you think offering an employee development program like the Veterinary Technician Associate Degree Program is so important?
Julie: Credentialed veterinary technicians play an essential role in delivering care to our patients, from assisting in surgeries and performing advanced procedures to supporting client needs. At VCA, we believe that creating pathways for technicians, like our VCA VREC Vet Tech Academy, is a crucial way we can address the talent shortage we're seeing across the field of veterinary medicine.
Offer proven training through Penn Foster