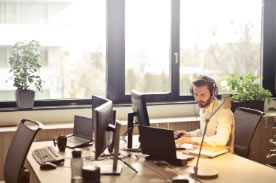 Retail isn't the only place where great customer service skills are essential. Businesses in almost every industry can benefit from helping employees build customer service skills.
Tony Hsieh, Founder and CEO of Zappos put it eloquently when he wrote, "Customer service shouldn't just be a department, it should be the entire company." From an auto mechanic who clearly communicates with car owners, to a veterinary technician who goes out of her way to understand the challenges faced by a pet owner with a sick pet, customer service skills help almost every employee do their job better. That leads to more satisfied customers and improved business results. Helping employees build customer service skills can directly impact your bottom line.
Why customer service matters
Customer service directly impacts the success of your business. More than half of U.S. consumers say they have chosen not to buy from a business because they experienced poor customer service, according to the American Express Customer Service Barometer. The same research found that 33 percent of consumers will consider switching companies after receiving poor service just one time.
Since a 5% increase in customer retention produces a more than 25% increase in profit according to research by Fred Reichheld of Bain and Company, it is in the best interest of every business to retain as many customers as possible, and great customer service is one way to do this.
Customer service is so important, that customer are willing to pay more for it. A survey by Harris Interactive found that 86% of consumers are willing to pay up to 25% more if it means they get better customer service.
Defining customer service skills
It's clear that customer service is important, but what does good customer service actually look like?
The definition of great customer service changes depending on what industry you're working in and the individual customer you're serving, but any interaction with the customer is an opportunity to exercise customer service skills. This includes face-to-face interactions as well as anything else that serves the customer, from email communication to the waiting room.
In many industries, automation means that customers can solve simple problems without getting a customer service representative, or indeed, any representative of your business involved. As a result, when customers do seek out help, they have more complex problems - the kind that can't be solved by a chat bot, blog post, or troubleshooting procedure. To help customers, employees need to listen with empathy, communicate clearly, and use problem solving skills to provide knowledgeable solutions.
Certain soft skills cluster together under the umbrella of customer service skills. Flexibility, problem solving, communication, respect, integrity, and a focus on the customer are all essential to providing exceptional customer service in any industry.
Flexibility -

Every customer is different and their needs and concerns reflect that. Building flexibility can help employees serve customers by quickly shifting gears to meet new challenges. Plans might change, problems might arise, customers might be happy one minute and angry the next, employees need to be able to confidently handle these changes to deliver great customer service.

Problem solving -

Most customers will ask for help only when they've tried to solve a problem themselves and failed. Employees need to be able to quickly assess a situation and identify the right course of action to solve the problem.

Communication -

Customers get frustrated when they don't understand what your employee is doing or why they're doing it. Clear communication lets customers know that they're being served appropriately. Remember that the ability to listen is as important as the ability to speak or write clearly.

How your employees communicate matters too. They should use positive language. For example: saying "thank you for your patience" instead of "sorry for the wait," helps customers feel like they did something good by waiting. Their overall experience is more positive and they're happier with their service.

Respect

- Showing respect for the customer and their challenges is vital to a positive customer relationship. That means employees need to be respectful of customer's feelings, time and individuality. For example, offering to give customers a call back rather than making them wait on hold shows that you respect their time. They might choose to stay on the line, but that gesture improved their opinion of your business.

Choosing appropriate language also shows respect for the customer. Calling a customer "sir" or "ma'am" conveys a different level of respect than "dude" or "honey." While most customers aren't looking for unnatural formality, they do appreciate respectful language.

Integrity

- Customers need to trust your employees. If they've had a bad experience with a business like yours in the past, trust is harder to earn. Also, if they're in a stressful situation - a commuter with a broken-down vehicle or a pet owner with a sick puppy for example - it may take some extra effort to build trust with them. Employees who are honest and act with integrity are well-positioned to provide great customer service even in difficult situations.

Your employees should not be afraid to say "I don't know, but I'll find out" or "I'm sorry that we haven't met your expectations, what can we do to fix this for you?"

Focus on the Customer

- Ultimately, all employees need to maintain focus on the customer. They should put the customer's satisfaction above convenience and even above short-term profits.
How to build customer service skills in employees
You can help employees build customer service skills by providing both on the job training or supplementary education programs, such as Penn Foster's Career Readiness Bootcamp. This program builds essential soft skills for both new and longtime employees.
Designed to build integrity, customer focus, communication skills and more, the Bootcamp is self-paced, with interactive lessons and activities. It can be delivered entirely online or in a blended learning format customized to the unique needs of your employees and your business. Of course, your leadership team also gets access to a robust learner management system that helps you track learner progress.
Because customer service is so important to the success of any business, most of our career programs include a focus on building customer service skills. Help employees build customer service skills while improving their expertise in your industry through programs like:
To learn more about how Penn Foster can support you to help employees build customer service skills in any industry, visit our website.
Recommended for You: Mapping Out Retail Career Pathways