Your Guide to Nonprofit Grant Funding for Education and Training Programs
Posted by Des Sinkevich on August 9, 2023
While the need for education and training resources for at-risk youth populations is obvious, the funds to provide these services aren't always readily available. If you're a non-profit organization looking to grow your program and make a bigger difference, finding the money to do so is often the first problem to tackle. Securing funding for such programs can play a critical role in the success of your organization and the communities you serve. While there are no hard statistics available, in general, about 1 in 10 grant applications are approved and 20% of federal grant applications receive a favorable response. But don't let the numbers discourage you; with the right goals, grants that fit your organization's needs, a strong application, and the right partner, you can increase your chances of success! If you're unsure where to start, don't worry! This guide will walk you through the types of grants available, the application process, and strategies for increasing your chances of securing funding.
Read more: How to Design an Effective Workforce Development Program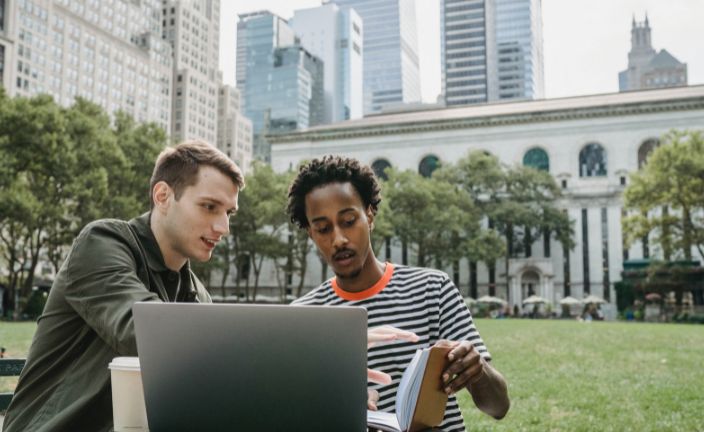 Types of grants for social purpose organizations
There are various types of grants available to social purpose organizations. Federal and state government agencies are the most common providers of grant funding. In addition, there are private foundations, corporations, and nonprofit organizations that offer grants. Grants can either be competitive or non-competitive, meaning you either must submit a proposal that meets certain criteria or meet eligibility requirements without submitting a proposal. Types of grants your organization may qualify for include:
Corporate grants
Corporate grants include funding options that are provided by companies. Companies who want to give back to their communities will often have a few grant programs available and organizations will need to submit an application and be approved to receive funding. You can potentially find grants your organization is eligible for by doing a google search for corporations that offer funding to social purpose organizations. Most corporate grants aren't limited to a particular location or state.
Local grants
Some communities and counties may have grant funding available for qualified organizations in the local area. Generally, these grants are focused on stimulating the local economy, but there may be opportunities to find funding that aligns with your organization's purpose – such as providing career training that can help underserved populations find stable work, benefitting them and the community in which they live.
State grants
States have grant opportunities for both non-profit organizations and businesses. Generally, these grants cover a wide range of applicable organizations that are based within that state. You can start searching for the right grants for your organization by checking out the Department of Labor website – both state and federal – as well as workforce development sites, SBA.gov, and other government resources.
7 steps to applying for a grant
The application process for grants varies depending on the grant provider, but there are general steps that most applicants have to follow. First, you need to check the eligibility requirements to see if your organization and program meet the criteria. After that, you'll need to gather the required documents, which typically include a program outline, budget, and project timeline. You will then have to submit your application before the deadline. If your grant is accepted, you'll need to comply with the grant requirements and report on the progress of your program.
You can follow the steps below to make sure you have everything you need to apply for funding!
1. Find the population and define the education need
What is the purpose of the grant? What will the funds be used for if you receive them? Before searching for grants and submitting applications, you want to make sure you have a firm idea of what you need and who you plan to serve. Knowing what you are using the funds for can also help you narrow down grants that you're eligible for. For example, you may qualify for different grants for programs geared toward education than programs geared toward workforce development.
2. Find a partner that offers the education and training programs you need
To help you qualify for grants and have a better understanding of the funds you'll need, it's a good idea to identify the partner you'll be working with to offer the programs you need. With a proven partner like Penn Foster, you can offer anything from high school diploma completion to workforce training.
3. Look into your risk assessment of funding
What risks does your organization face without the funding? How long will the funding last? Having an idea of the risk you're looking at can better help your organization determine what type of grants and how many grants you'll need to cover costs. Understanding your funding sources and risk assessment can be tricky, but relying on a proven education partner like Penn Foster means support from experts with experience working with organizations just like yours.
4. Assess the likelihood of your partner being approved for funding
When you're working with a partner to provide education and training, you'll want to make sure that partner is approved by the appropriate agencies in order to increase your likelihood of receiving the grant funding you need. Penn Foster, for example, is approved by the Department of Labor for workforce training and meets the requirements of many state-level grant opportunities.
5. Assess your demographic and go down every grant avenue
The demographic you plan to serve can impact what grants you qualify for. For example, if you hope to serve a youth population – generally around ages 16-24 – you may qualify for different grants than if you were planning to work with an older community. Additionally, you don't want to limit your options to just one or two grants. To ensure success – of funding and your program – it's essential to apply to as many funding opportunities as you're eligible for.
6. Apply for grant funding
You've identified your target demographic and what grants you're eligible for. The next step is to submit your application! Generally, you'll need to complete a few details and different funding opportunities may require different documentation. If you're not sure what you need to do or it's your first time applying for grant funding, you can reach out to our team at Penn Foster. They've helped a variety of partners apply for and receive funding for their organizations and know what you need to ensure success!
7. Get the grant and start the program
Once you've been notified that you're approved for grant funding, you can move on to actually starting the program! If you've been in contact with our team, we'll be able to help you get set up and take the next steps to make sure your program is a success.
Read more: Creating Industry-Driven Career Pathways
Strategies for increasing your chances of grant approval
Securing grant funding for education and career training programs can be a daunting task, but with the right resources and strategies, it can be achieved. Remember to research the types of grants available, carefully follow the application process, and create a strong and comprehensive proposal. By doing so, you'll increase your chances of receiving the grant funding necessary to support your organization and the communities you serve.
To increase your chances of grant approval, it's important to have a solid proposal. Your proposal should be well-written and comprehensive, demonstrating how your program meets the needs of the community you serve. Use data and statistics to back up your claims. Additionally, try to build relationships with grant providers by attending events, sending updates on your programs, and expressing gratitude for their support.
If you're not confident about what grants you qualify for or need help submitting your application, our experts at Penn Foster can help! You can reach us by email at [email protected] and we can easily guide you through the process!