How to Design an Effective Workforce Development Program with Penn Foster
Posted by Des Sinkevich on January 16, 2023
Now, more than ever, effective workforce development and professional growth opportunities are vital to employee recruitment and retention. By offering education benefits, in-depth training, and upskilling solutions, you can also increase employee engagement, develop an internal talent pipeline that will bring long term ROI, and stand out in the competitive labor market. To ensure your training initiatives are successful from day one, Penn Foster offers a variety of workforce development solutions that can meet the needs of small and large organizations. Here's how it works.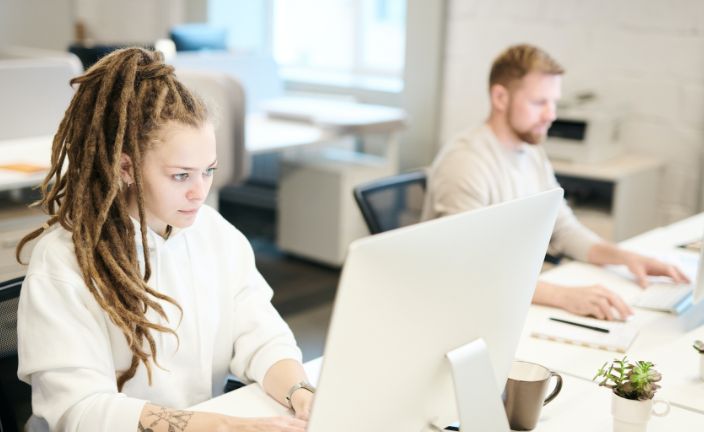 How to design an effective workforce development program
Penn Foster has been a trusted training partner to over 1000 organizations nationwide, offering a variety of workforce development and upskilling solutions across several in-demand industries. From veterinary medicine to healthcare to manufacturing, we offer a broad range of program options that can help your organization invest in the professional development of your employees, attract talented new hires, and increase retention.
If you've been considering investing in an effective workforce development program but are unsure of what next steps to take and how, exactly, Penn Foster is different, here's an in-depth look into the process of creating a unique training program that fits your specific needs.
How to design a unique workforce development program with Penn Foster
Designing an effective internal workforce development program is no easy task, no matter the size of your organization. It involves in-depth analysis of your business needs, buy-in from decision-makers, budget, planning, initial adoption, and, often, continued maintenance. If you're developing the program internally without outside resources, there will be additional lift needed from your organization's human resources or training department that could require further spending that deeply impacts your yearly budget.
Read more: 5 Best Practices for Implementing a Successful Workforce Development Program
Instead, by working with a training partner that already has proven courses and programs in place, you can minimize the effort it takes to implement a successful workforce development initiative and increase your return on investment. Working with Penn Foster, you can configure a training program that offers the skills development you want your employees to have, choose which programs you offer, and more. Here's how it works:
1. Decide which programs you want to offer
You can build a training program that offers a variety of courses and degree options for workers to choose from, decide to only offer one or two industry-relevant courses, or work with a training expert to build a catalog of classes that cover specific skills needed for the jobs at your company.
For example, if your organization is within the healthcare industry, you may want to only offer training that can help your employees move into new roles within the company. In that case, you'd want to offer training in healthcare-focused jobs like medical assistant or pharmacy technician.
If you're not sure what kind of training you'd like to make available to your employees, you can discuss your business needs with one of our experts to build the right training program for you.
Read more: How VCA is Building Skills and Hands-On Experience for Veterinary Technicians
2. Determine your employee enrollment process
There are a couple of different options to manage employee enrollment into your training program offerings. Each has its pros and cons. These include
An application process. If you want to set eligibility requirements for your training program, an internal application process can help you determine which employees are the best candidates to take advantage of your offered courses. This can allow you to ensure that those who participate are the most motivated and will progress through training.

Pros:

You can evaluate program candidates to find the best matches for training.

Cons:

It can also be a lot of administrative work, since someone will need to review applications and approve them.
Generally, organizations who use an application process will then manually enroll the employee into the Penn Foster program of their choice (from your selected options). Administrators may need some training on best practices for doing this, including which data to collect from
Allowing employees to enroll themselves. An option that doesn't require as much back-end work is giving employees access to enroll themselves directly in the program of their choice. Usually, this can be done by including an enrollment link on your organization's intranet. This can be a good option for those who don't want to waste time having to approve employees for enrollment, but also means that any employee can enroll at any time.

Pros:

Employees can enroll themselves
No additional administrative work needed
Education benefits are available to all

Cons:

Anyone in your organization can enroll, so there may be less motivated or less qualified employees who sign up.
Read more: Talent Development in the Healthcare Industry
3. Decide how to pay for the program
There are several options for how your organization can choose to fund a training program with Penn Foster. Cost can vary depending on how many learners you'd like to enroll, the number of programs you make available, and additional factors. Options include:
Fully employer sponsored. Your organization would fully cover the cost of training programs for your learners and cost can be based on the number of employees you want to enroll per year or contract period. This is a great option for those who are really looking to attract serious, talented new hires since, in today's labor market, employee-sponsored education benefits are a big wish list item for many workers. It can demonstrate that you're fully invested in the professional growth of your people and can make a positive impact on company culture.
Self-pay. Learners would pay for the program themselves. With this option, you may offer incentives or additional benefits such as offering a quarterly sum that can be applied to tuition for eligible participants, or motivate learners to complete training by reimbursing a portion of tuition upon successful completion.
A combination of sponsored and self-pay. This option allows you to cover a portion of the cost of training that you choose, with the employee making up the difference. There are several ways this could be managed and how much you pay versus how much your learners pay is up to you. Some organizations choose to pay for the programs upfront, for example, then deduct a set amount from employee pay.
Read more: Offering Education Opportunities is a Win-Win for Employers
How to successfully implement your training program
When you're spending effort and budget on implementing a training program, you want to set yourself up for success from day one. Preparing to a launch a training or workforce development program begins before the program is even available to workers, so you'll want to have information and materials available well ahead of your scheduled internal launch date. Consider things like
Internal marketing. Education benefits can be a huge draw for talented employees who are prioritizing professional development more than ever. Having training and professional growth opportunities available are essential to organizational growth and employee retention. However, if your employees don't know a program exists or don't understand how it works, they won't take advantage of it.
Make sure you get the word out about the training opportunities that will be available well before launch. Best practices for doing so include things like an informative email series that announces the program and gives employees more information, including information on the organization intranet or in newsletters, and posters or flyers if employees work at a designated location.
Support from leadership. Support from leadership, from the executive level to team leads and supervisors, is essential to program success. Leadership at all levels should have at least a foundational understanding of what the program entails and how it can benefit workers. You'll also want to encourage managers to talk to their teams about the program and be supportive of those team members who want to participate.
Training incentives or motivational tools. Providing small incentives or motivational tools to participants in the program can help with its early adoption. These could be as simple as formally recognizing participants in internal communications and shout outs for meeting milestones.
How you'll recognize program completion. Besides learning new skills that can help them in their current or future roles, workers want to know more about how completing a training program can benefit them. After all, they'll most often be working on their education outside of scheduled work hours, so they'll want to know it's worth the effort. Have clear plans in place to demonstrate the benefits of completing training programs. Will those who successfully finish a course of study be eligible for promotion? A pay raise? Be sure to also formally congratulate and celebrate those employees who do successfully complete programs in a manner that is visible to the whole organization. This will show employees you're invested in their growth while also being a tool to encourage others to take advantage of the offered training opportunities.
When partnering with Penn Foster, you can also choose to take advantage of marketing support to drive engagement and program adoption. We can provide assistance in creating a marketing plan and even develop branded marketing materials that your organization can use to promote your program such as templates for communications, pamphlets, PDF information sheets, and more.
Read more: How to Ensure Employees Take Advantage of Tuition and Education Benefits
How to measure training program success
Once you've established a formal training or education benefits program, you'll want to be able to have data available to demonstrate success. Through Penn Foster's Partner Portal, you can track learner progression and enrollment to gain insight into how your workers are doing. You'll also have access to tools to track and measure outcomes and custom reports and dashboards that can help you better understand how employees are using their training, if they're meeting goals, and more
Attract new hires, improve retention, and increase engagement by building an effective training program today
Whether you're an employer, a social purpose organization, or an education provider, Penn Foster can help you create and manage an effective learning and upskilling program. Our training experts can walk you through the best options available to help you meet your organizational goals to get you started, but support doesn't end there. Once you've taken advantage of our workforce development solutions, you and your learners will have access to customized support from our client success team and faculty.
Learn more about how Penn Foster has helped other organizations develop, launch, and find success with training and workforce development through case studies from current partners or reach out to speak with our team today to take the next steps.