3 Ways to Improve Inclusivity in Online Education
Posted by Lauren Ambrosio on October 19, 2023
Making education equitable for all learners–regardless of any barriers students may otherwise face–has become a priority for educators in recent years. As socioeconomic factors continue to make learning harder for those without access to resources, educators need to find ways to close the gap. There is no good reason for students not to have access to the tools they need to be successful learners, especially in the digital age. While there is no magic bullet to improve inclusivity in online education, educators and communities can implement best practices to ensure they are doing everything in their power to create a more inclusive learning space, even if it's online.
Making sure that all students have access to resources–both human and technology–increases accessibility and engagement, ultimately improving the learning experience for everyone. But how do we go about tackling the issue of inclusivity in online education? The good news is, there are changes educators can make that will help. However, systemic changes need to be made in order to really make a difference in the lives of all learners and the communities where they live and work.
Read more: The Value of Training Current Employees vs. Hiring New Ones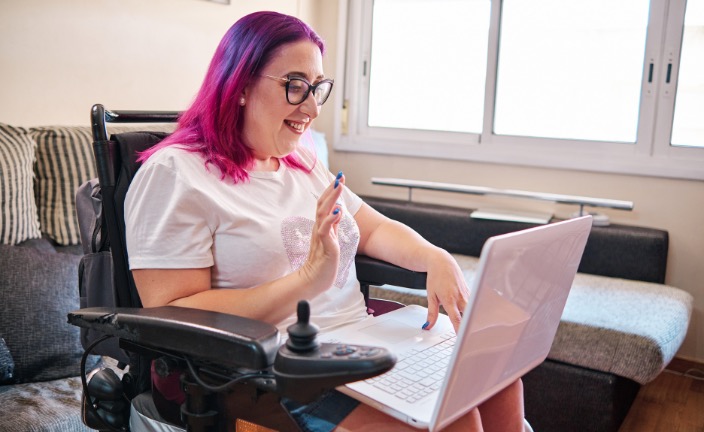 What are the barriers to accessibility and inclusion in online education?
There are challenges that all learners face while completing their educations online. Learning needs, technology familiarity, and study environment all play into how well an online learning experience is going to go for a student. If they cannot find a quiet place to listen to lectures, complete coursework, and study, they will undoubtedly fall behind. Once a student starts habitually missing assignments, they are more likely to drop out of a course or just stop showing up without notice due to embarrassment or feeling like they are so behind they will never catch up.
With online classrooms, teachers do not always know the ins and outs of a student's home life; it's less obvious when you don't physically see the student every day. Identifying areas where a child or adult learner is struggling can be a challenge, which is why nonjudgmental communication between teacher and student (and parent, if a K-12 learner) is crucial. Is the student taking online classes while caring for a sick or elderly relative? Are they trying to earn a diploma or degree while working full-time and raising children? Or do they have family members who aren't as invested in education and aren't helping the student create a healthy learning environment?
While teachers will never know everything about each student they teach, it's a good idea to get information from the learner even before classes start. Then, the teacher and student can work together to troubleshoot any issues before they arise. One way to make an impact on inclusion in your digital classroom is with clear and effective communication.
Read more: 3 Ways to Prepare High School Students for Jobs
How to foster trust and open communication in virtual learning environments
Creating an inclusive online learning environment requires taking into consideration things you don't have to think about when it comes to in-person schools. It can be a challenge, but one that educators must take seriously if they want online learning to be inclusive. To foster trust and open communication, try the following.
Outline the best ways to communicate, whether it's via email, your school's messenger platform, or something else. Make options available, like voice messages, for students who struggle with written communication or have physical disabilities. If you have a singular communication tool you have to use, make sure all of your students have successfully connected with you on the platform so you know they won't have technical difficulties once the semester begins.
Make sure you take into account time zone differences if you have students all over the country. Have multiple "office hours" time blocks to accommodate students who may not have a traditional schedule, and be sure to respond to messages and emails as soon as you can. There's an anxious student on the other end of that email, after all!
Feedback loops are a great way to check in with your students, especially those who require more attention. Schedule regular chats with those students, and you will find that being open and communicative will show your learners that you are safe and want to help. Then, they can comfortably ask you for guidance or let you know they are struggling without fear of repercussions.
Include cultural, ethnic, and national holidays and important dates and figures in your teaching, announcements, and calendar. Discussing other cultures and including world history and current events helps make the world a little smaller and easier to understand. It's hard for a student (or educator) to discriminate or feel disdain about another culture if they are educated and immersed in it in some way. You can even encourage students with different backgrounds to share their experiences, which they will hopefully feel safe doing in the environment you create.
Use inclusive language, learn how to pronounce every student's name, and make sure you are using learners' preferred names and pronouns. Practice makes perfect, and it will show your students that you care.
Online learning is particularly beneficial for students who frequently miss classes in traditional settings, often including those with disabilities or chronic illnesses. Let them know that you are flexible and understanding. Recognize that they might not always be able to notify you beforehand about missing a class or turning something in late. No matter what, show empathy.
Read more: How Online Classes Can Help Learners Succeed in High School
Systemic issues plaguing online education and how we can solve them
Teachers are on the front lines, working hard for their students. Unfortunately, there are many challenges educators face in making learning more inclusive. Removing barriers and improving access makes learning more equitable, which benefits all students and society in general.
Let's examine three systemic issues and potential areas for improvement. While some changes may take time and resources, the best time to start working towards a more inclusive world is right now, and the most effective tool you have is your voice.
BARRIER: Insufficient or no internet access, especially in rural and underserved areas
Solution: Having home internet used to be a luxury, but those days have long passed. Now, everyone needs internet access to do anything, from ordering at the drive-thru to completing their education to seeing a doctor. Achieving universal high-speed internet access is not just about laying down cables but involves a holistic approach encompassing policy, investment, innovation, and education. While the challenge is significant, the benefits of a connected world — in terms of education, economic opportunity, and societal advancement — make the effort invaluable.
BARRIER: Cultural insensitivity or misunderstanding
Solution: Investing in professional development, providing easily accessible continuing education, and educational trips abroad are great ways to immerse teachers in different cultures and will help them be more engaged with students from different backgrounds. A multicultural curriculum–enhanced by the teacher's own first-hand experiences and students' stories–will help bring cultural awareness and encourage the students to engage in discussions about their life experiences. Exposure to diverse cultures is what creates ethical, self-aware citizens of the world.
Read more: How English Language Learners Are Left Behind and What We Can Do About It
BARRIER: Limited accessibility for students with disabilities
Solution: Learning platforms should be designed or updated following web accessibility guidelines, such as the Web Content Accessibility Guidelines (WCAG). Course materials need to come in a variety of formats for all different types of learners. Braille, text-to-speech, talk-to-text, adaptive descriptive captions, and more are already tools that currently exist and can be implemented. Teachers will need to be trained on making their lessons more accessible, and consulting with people with disabilities is a good way to find out what their needs are. Get feedback from students with disabilities, and continually improve accessibility measures as you go. By making online learning more accessible and flexible, it not only benefits people with disabilities, but all learners.
Read more: How to Design an Effective Workforce Development Program
Upskill and educate your learners the right way
In the world of online education, it's not just about getting information across—it's about making sure everyone is included. If you're gearing up to train newcomers, aiming to keep your existing team sharp, or want to provide education opportunities in your community, Penn Foster offers adaptable training solutions designed with everyone in mind. Thinking about a partnership? Reach out to our training experts and let's discuss how we can elevate your workforce together.