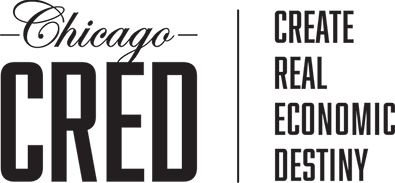 Chicago CRED Seeks to Reduce Gun Violence with Education and Career Training for 300+ At-Risk Youth
Increased Education Decreases Violent Crime
Since opening its doors in 2016, Chicago CRED (Create Real Economic Destiny) has strived to achieve a transformational reduction in Chicago's gun violence by recruiting people most likely to be perpetrators or victims of shootings and transitioning them to jobs in the legal economy. Here's how Chicago CRED was able to make a difference through partnership with Penn Foster.
Improving Economic Mobility
A high school diploma plays a crucial role in helping people climb the economic ladder. It can pave the way for better jobs, a stable career, and higher earning potential over time. The average weekly income for those with a high school diploma is $171 higher than those without that education which adds up to $400,000 over a lifetime. Many entry-level positions require a diploma or equivalent, allowing high school graduates to qualify for a wider range of job opportunities. In turn, those job opportunities can provide experience, valuable skills, and social connections that can lead to profitable career paths. Achieving a high school diploma is a significant milestone and an important step in fostering hope for a brighter economic future.
Video Transcript
My name is Brandon Willis. I'm 22 years old. My name is Lonnie Williams. I'm Damien Flunder. I'm Dontrell Willis. My name is Demetri Chavez. My name is Joshua Joyce. I'm Carl, I'm from Norfolk Virginia and I'm a High School graduate! The Chicago CRED program is a wonderful program for our at-risk youth. It's a group of guys that have enormous potential but haven't always been served well by traditional schools and other kinds of programs. I was going down the wrong path. They helped me change change my life for the better. They helped me bring my family closer together. They helped me get my high school diploma. I dropped out of high school when I was 16, so I went years not having it Being in CRED helped me so much, you know, now that I have it, I feel like I can do anything. We try to use the skills and training of a transitional job to allow them to kind of work on a whole variety of their life skills that can allow them to become productive members of the community and also kind of reflect on where they wanna go with their life. So when I got to this program, they like kind of encouraged me to get back on my education. I've got my diploma now, I wanna go back to school and just further my education. If you don't have a diploma, it's so much stuff you can't do just receiving my diploma a month ago and so many doors have opened. I've gotten job opportunities from different people. In my neighborhood, we will say it's like having the keys, like the keys to success. I am officially at Malcolm X College. I was actually thinking I was actually thinking about going on to school and getting it started with my associates. I wanna do criminal justice. By the time I'm like 25, I want to go for my master's. I'm I'm very, I'm very excited. I'm very excited. Um It's like it's it's a great milestone for me. Right now, I think I wanna go back to school for Studio Engineering. I'm in the process now of trying to put together a business plan. I wanna open a catering service. I feel like I can go ahead and grab what I wanna grab. With that piece of paper, it could define me to go further and open up more doors. Seeing that change where they become the stewards of their own future and the future of their community? It's an incredible privilege to get to be part of that. So I've been to a few of my siblings' high school graduations already and it felt like I missed out on something. So you know, now that I got mine, I can feel the same way they felt and have a graduation like they did. I'll see myself walk on stage, you know, do something that I hadn't thought I could do. So it it feels pretty, pretty good. So this would be like first graduation I actually attend and I'm gonna try to enjoy it.
Education paves the way
Chicago CRED's targeted gun violence prevention model connects with participants through street outreach, engaging directly with men and women who are most likely to shoot or be shot. Guiding participants through therapy, life coaching, job training, and an education program; CRED operates a holistic model to enact individual and community change.
To date, over 300 CRED participants have earned their high school diplomas through Penn Foster. Participants work at their own pace to complete at least three exams each week, either in a classroom setting or independently from home, at a time that may be more convenient for them. Those individuals able to stay on pace can graduate in about nine months.
Support to reach the finish line
In-person CRED tutors assist participants with writing assignments, reading, and exams, as well as one-on-one tutoring as needed. Ronail Carter, 2023 Penn Foster graduate, credits the passionate Chicago CRED staff for helping him and his classmates make it to graduation day.
"Our teacher, Ms. Stewart, she took her time to help us on weekends and overnight and everything," Carter said in an interview with WGN9. "She was always there."
Tutors like Ms. Stewart are a driving force behind many of the student success stories. Just one dedicated mentor can cause a ripple of motivation among learners. On-the-ground program support for Penn Foster learners is helping them navigate challenges and stay motivated throughout their educational journey. Strong support systems not only enhance academic success but also foster a sense of community and connection.
Commemorating incredible achievements
After dropping out of high school, Leneaha Gist, 27, never thought she would return to school. In an interview with WGN9, Gist shared, "I was depressed, suffering from PTSD, going through a lot, and the program helped me come out of that shell."
CRED helped Leneaha get her diploma. Now she's headed to college.
Leneaha was joined by 80 other graduates to accept their diplomas in a drive-thru style ceremony celebrating their accomplishments earlier this month. You wouldn't know it by looking at her, but Leneaha was shot 11 times last year. For CRED participants who have beaten the odds, education is one of many vital programs. CRED's commitment doesn't end after graduation; they continue to support their graduates by placing them in job placement programs to help secure employment, ensuring a pathway to a brighter future.
Impact on Chicago communities
The graduation ceremony also celebrated the lives of Ronnie Roper, a Penn Foster graduate who was tragically shot and killed in May 2023, and Penn Foster student Willie Stokes, whose life was also ended by gun violence just a month later. Ronnie, Willie, and Leneaha's stories demonstrate the critical need for programs like Chicago CRED and the profound impact they can have on the community.
A 2021 study by Northwestern found that the number of fatal and non-fatal gunshot injuries across all CRED participants decreased by nearly 50%, and the number of arrests for violent crimes fell 48% in the 18 months after enrollment in the program. While this study suggests early success, the victimization rate for CRED participants remains far above the city and CRED neighborhoods' average rates, highlighting the incredible need for expanded programing.