7 Tips for Keeping Students Motivated in Penn Foster High School
Posted by Joelle Ramey on January 23, 2023
Staying motivated is a key factor in the success of students. As an instructor in your program's Penn Foster High School Completion Program, you serve as a mentor and a coach to students who struggled in a traditional learning environment for various reasons, but are willing to try again by learning online. While a big part lies with the students themselves, there are many ways through which you, as a mentor, can encourage and support them to stay motivated and engaged throughout –and sometimes even beyond- the program. Consider implementing these tips to improve student motivation.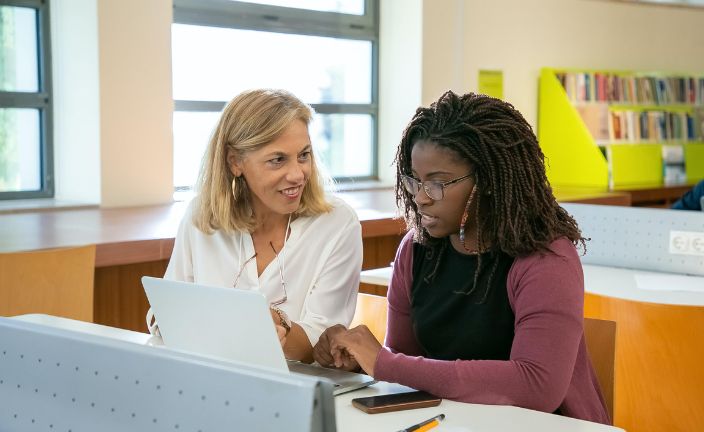 1. Take the time to get to know your students
Get to know your students, ask them non-work or academic-related questions. What do they enjoy doing outside of the classroom or workplace? What challenges are present in their lives that take up a lot of their time and energy? Showing genuine interest and care in students' personal lives goes miles and will likely be what students remember most about their program experience. When students feel appreciated, it creates a safe learning environment and motivates them to work harder, as they want to get praise and positive feedback from someone they feel knows and respects them as individuals.
2. Advise students to prioritize their time
One of the main benefits of Penn Foster's offerings is the ability for students to learn on their own time. Remind your students that they are ultimately in control and responsible for their own studies. Encourage them to use this to their advantage as they can make their own schedule that works around their other obligations. Encourage them to prioritize their work, make to-do lists, plan their time out, and set up a specific schedule for their studies to make sure they do not fall behind.
Read more: 5 Strategies to Help Learners Earn a High School Diploma
3. Remind them to recharge and take care of themselves physically
Having an organized schedule and to-do list will help ease stress and allow students more time to recharge. Taking some time to rest their minds is crucial in keeping students motivated and on track to complete their programs successfully and on time. Remind students to check their course timeline and map out a schedule. Seeing due dates on an organized calendar will help students stay on track and not fall behind throughout the year.
Staying healthy throughout the year is also a key factor in staying on top of their studies. Remind your students to take precautions such as washing their hands frequently, eating well-balanced meals, exercising, and getting enough sleep every night.
4. Encourage self-reflection and help students set new goals and tackle challenges
The students in your program want to succeed. Encourage them to determine their own strengths and weaknesses through self-reflection and come up with ways to improve. Students are more motivated by creating these kinds of critiques of themselves, as it makes them feel empowered to own their goals. Help your students set up realistic performance goals related to their course work and careers. Encourage them to set completion goals, scoring goals, and personal goals, like bettering their organization or time management skills.
5. Celebrate achievements and set up incentives
There is no other form of motivation that works as well as encouragement. Students crave recognition and praise. Rewarding success publicly, giving praise for a job well done on an assignment or exam, and sharing exemplary work are a few different ways to celebrate your students' victories. Creating a friendly spirit of competition in the classroom is an easy way to motivate students to work harder to excel and stay engaged. It also gives students a sense of togetherness. A few additional ways to celebrate your students' achievements include
Setting up milestones. To keep students motivated through the program, establish small goals along the way. Make sure students are acknowledged for their progress to encourage them to keep working and inspire their peers to stay on track. Offer rewards for students and consider the personalities and needs of your students to determine appropriate incentives.
Holding graduations. Many programs find that scheduling graduation ceremonies gives current students additional motivation to push through the program. A great way to celebrate is by hosting a graduation ceremony for Penn Foster program graduates every few months. Encourage current Penn Foster students to attend graduation ceremonies as well as instructors, administrators, and other faculty.
Hosting reunions. Celebrate the bonds created through the program by hosting reunions for Penn Foster graduates. Consider including existing students to give everyone an opportunity to network and discuss their achievements and future endeavors.
Read more: Overcoming Obstacles: A Student Spotlight on Davion Webb
6. Encourage students to change their scenery
Sitting at a desk can become dull and tiring. To renew interest in the subject matter, encourage your students to take their course work elsewhere. Studying at a local coffee shop while enjoying coffee and a pastry can be just what students need to regain inspiration and stay motivated.
7. Leverage former students as motivators
Allowing current and former students to form connections can be hugely beneficial as they have many experiences and goals in common. The support that they can offer one another is valuable and there are many ways in which you, as an instructor, can nurture these connections. Consider things like:
Q&A sessions with former students. Once or twice a month; have a student who previously graduated from Penn Foster come in and host a Q&A session with current students. During the session, former students can discuss what helped them succeed, how they stayed motivated, and what it means to them to be working towards their career goals. This is also a terrific opportunity for students to learn more about their options following the High School Diploma Program. Students will identify with these graduates and be encouraged to continue working towards their diploma and focusing on their future.
Open-door policy. Have an open-door policy in the Penn Foster program classroom so graduates know they are always welcome to check-in or ask for help. Current students will feel inspired seeing former Penn Foster program graduates pursuing their career goals. They will have the chance to develop friendships and promote a support system within your program.
Student Mentors. Seek Penn Foster graduates who can serve as student mentors for individual students in the class. Those struggling the most with the workload will find inspiration from mentors who come from a similar background and achieved similar dreams.
Read more: How to Prepare High Schoolers for a Hybrid Workforce
Help your students succeed with a trusted training provider
Keeping students motivated and engaged throughout their Penn Foster program is the key to their success and yours. Ensuring students have the best experience possible throughout their program will ensure continued success even after graduation. They will also serve as advocates for your program and inspire future students to enroll. To learn more about how Penn Foster can help your students succeed in the classroom and beyond, reach out to our training experts today.