5 Secrets to Having the Best Vet Techs
Posted by Des Sinkevich on October 25, 2022
A strong veterinary practice depends on having a skilled team of veterinary healthcare workers, from dedicated veterinary assistants to credentialed vet techs to licensed veterinarians. Each member of the team makes a difference in how well the practice runs and the quality of care patients receive. Veterinary technicians, however, may play one of the biggest roles in the success of the practice. Skilled vet techs can make a veterinarian's job easier and ensure that pets receive the best, most timely care. When your veterinary technicians are overwhelmed or aren't prepared to fully handle their duties, your practice –and patients – may suffer. But, when you invest in having the best vet techs, you're putting your practice in a place to stand out among your competition and do better for pets and their owners. First, it's important to understand what makes a truly great veterinary technician.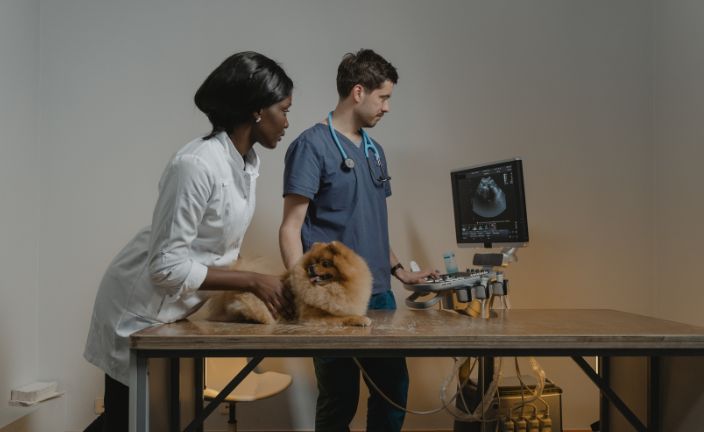 What makes a great vet tech?
A great veterinary technician is more than someone who is on time and willing to work extra shifts to pick up any slack caused by staffing shortages or lack of skills. A truly great vet tech will have a passion for the work they do and a hunger to continuously learn more, growing their knowledge to better serve their patients and advance in their career. They're compassionate and empathetic, able to quickly adapt to new situations, and can work well as part of a team.
A great vet tech also has strong clinical skills and is able to
Examine patients
Educate pet parents
Administer vaccines and medications
Take vital signs
Take samples and complete laboratory tests
Dress wounds
Assist in surgery
Take x-rays and other diagnostic imaging
Understand animal anatomy and apply their knowledge to their work
Handle blood, fluids, and other "messy" parts of the job
5 secrets to have the best vet techs at your practice
While you may have hired great people as your veterinary technicians, there are many reasons why they may not be as efficient as you'd hoped, or as skilled. From being overwhelmed by an influx of patients to just not having a full understanding of their role, your passionate vet techs may lose steam and make mistakes. It happens. But it's important to ensure that you address these issues head-on to make your vet techs the best they can be.
1. Provide effective training and continuing education opportunities
Even with the most dedicated, quick-learning employee, it can be tough to effectively train veterinary technicians on the job if they don't have the education background to inform their hands-on learning. Additionally, they can be limited in what they're able to do without the proper credentials that are required by many states. In order to make sure you have the best veterinary technicians, hiring those who've completed AVMA-approved training programs can be the most effective way to ensure your techs know what they're doing.
However, if you have veterinary assistants who want to move into a vet tech role or newer technicians who are eager to learn and may not have had a complete education in the field, offering recognized training programs and education opportunities can make a difference. Not only does this ensure your vet techs are learning the skills they need to be successful on the job, supporting their education and professional development can show you are invested in them as employees, which inspires loyalty to your practice and confidence in their work.
And, just like human healthcare, procedures, techniques, and knowledge in the veterinary field are constantly updated. To make sure you have the best vet techs possible, it's important to make sure they stay up to date with new developments. By offering opportunities for continued education, your techs can stay on top of the latest trends and science, becoming an even bigger asset to your practice.
Read more: Best Practices to Train Vet Techs
2. Focus on employee wellness
Compassion fatigue and burnout are two of the biggest causes of turnover for veterinary technicians. Many switch careers entirely after about five years on the job. Being a veterinary technician is hard work and, without intervention, the job – and some heavier tasks, like assisting in euthanasia – can have detrimental effects on your vet techs' mental health and job performance. Setting up a wellness program within your practice can curb the impact of the job on your employees and ensure that they are able to access help when needed, decreasing turnover rates.
Read more: How to Set Up a Wellness Program for Your Vet Practice
3. Utilize your vet techs to their full capabilities
Job satisfaction for veterinary technicians is often closely tied to their ability to apply the knowledge and skills they developed through their education to their day-to-day work. When credentialed vet techs aren't fully utilized within a practice, they may feel wasted and unmotivated. Besides increasing employee satisfaction and productivity, fully utilizing the skills of your veterinary technicians can have a positive impact on practice success and revenue.
Vet techs who are able to fully use their skills on the job can take on more responsibilities, allowing veterinarians to focus on more critical patients. This can then make time for the practice to take on new patients for wellness appointments and standard care, increasing revenue.
4. Recognize accomplishments
When workers feel they aren't appreciated and the work they do goes unnoticed – especially when they are the type of employee to go the extra mile, pick up extra shifts, and are truly excellent at their job – there's little motivation to keep working to the same level. Why should they put in more time or effort when they're treated the same as an employee who never takes on extra responsibilities?
To keep your staff motivated to do their best and be their best every day, setting up a program or policy to acknowledge the hard work and accomplishments of your staff is vital. This could be as simple as an "employee of the month" program, shoutouts, or rewards for excellence such as an extra day off.
5. Stay on top of industry trends
The veterinary industry is one that changes and grows to meet the needs of patients and incorporates new science and technology. In order to be a successful practice, you need to stay up to date – or ahead of – industry developments and trends. Your veterinary technicians need to do the same.
For example, the pandemic has impacted how practices can best serve clients. Where telehealth was sometimes used in human healthcare, it was rarely implemented within veterinary medicine. Today, however, telehealth can be a legitimate and effective way to see more patients for wellness appointments and standard issues, breaking down barriers to care. But in order to effectively implement this newer process, your veterinary technicians need to be trained in telehealth procedures and regulations. By providing this training to employees, you can improve your practice and ensure that they aren't overwhelmed when you add telemedicine to your practice.
Another example is the adoption of Fear Free skills in veterinary practices. Fear Free ensures a safe and calm environment for patients and practice staff. It can make for a better overall experience for clients and their pets, making appointments easier and increasing trust with clients.
By hesitating to stay on top of industry trends and techniques, you're not only losing out on the opportunity to have a cutting-edge practice, but you're also setting your vet techs up for more difficult work.
Partner with a leading veterinary healthcare training provider
At the end of the day, one of the easiest ways to ensure you have the best, most effective vet techs on staff is to make sure they have the training they need. Through Penn Foster's Veterinary Academy, you can offer recognized, online training to improve the skills of your staff, increase your number of credentialed vet techs, and encourage professional growth and advancement in the veterinary field. To learn more about how you can implement an education benefits program in your practice, reach out to one of our training experts today.