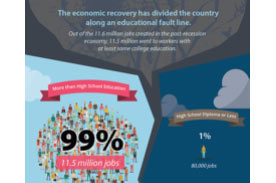 Penn Foster was recently asked to present at the NJCA's Professional Development Innovation Webinar Series. The webinar addressed the need for skilled candidates for today's job market, why it's important to offer post-secondary courses and create career pathways for Job Corps students in particular, and how individual Job Corps centers can offer programs for in-demand skilled trades on center.
Hosted by the NJCA, the webinar was designed to focus on how Job Corps centers can seamlessly offer career certificate and diploma programs and ACE CREDIT college courses, helping students optimize their time on center. While this webinar was focused on Job Corps, the content and major themes discussed can apply to all youth organizations focused on developing college and career-ready students.
The topic of postsecondary credentials is timely. Workforce readiness statistics project a growing need for a more educated workforce in the coming years. For example, by 2020, two out of every three jobs will require some postsecondary education, and at the current rate, the US will have a gap of five million workers with postsecondary credentials and training1. To best prepare students for long-term career success, they must graduate with some sort of career certificate or degree, in addition to a high school diploma.
The NJCA's Senior Director of Policy, Anand Vimalassery, began the webinar with a look at the current labor market trends and reiterated the Department of Labor's (DOL) desire to see innovation in Job Corps. While both the DOL and individual centers are attempting to discern precisely what innovation will look like in practice, it's clear when studying labor trends that offering postsecondary credentials will play a central role in future innovation.
Employers today are demanding job candidates with some level of postsecondary education and it's crucial that youth organizations listen and respond accordingly. For example, of the 11.6 million jobs created following the 2008 recession, 11.5 million went to workers with at least some college education. Just 80 thousand newly created jobs went to individuals with a high school diploma or less1.
The United States labor market is evolving, and youth organizations must innovate to keep pace. The job market is incredibly competitive and students need some postsecondary education in order to compete.
Recommended for You: How "Non-Traditional Students" are Changing the Face of Education
Sources: Photo Credit. (1) Georgetown Center on Education and the Workforce " America's Divided Recovery