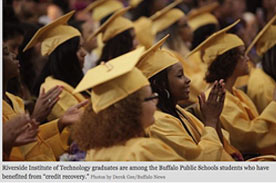 In today's K12 education system, there's an expectation that students master content and coursework the first time that they are exposed to the material. Credit recovery programs, like those offered by Penn Foster, provides students with who have either failed a class or fell behind for a second chance at success. Often a single course credit can stand between a student and graduation, and credit recovery enables the student to earn the single credit and graduate on time. Credit recovery is also known as a dropout-prevention strategy, summer school and even "grade forgiveness," as it's called in Florida.
Boosting struggling students' chances of graduating seems like it would be an academically agreeable initiative, but critics question the effectiveness and motives behind this second chance at graduating.
The Credit Recovery Debate
The tension lies between high school graduation rates and high academic standards, states The Hechinger Report.1 Pressure from federal and state requirements, as well as financial pressures, can move school districts to lower the bar of academia to push students through to graduation. Credit recovery is under scrutiny as being a fix-it crutch that school systems (turned "diploma mills") depend on to fast-track students to graduation.
In actuality, credit recovery can strengthen the learning experience while putting students back on course to graduate. For example, this past June, the New York State Education Department announced that in the Buffalo school district, the graduation rate increased from 47.8 percent in 2012 to 56 percent in 2013.2 Buffalo's GradPoint Online Credit Recovery program assesses what students have mastered and need to review, and then administers specific lessons students need to focus on, both at home and in class. For Buffalo, credit recovery efforts produce results and provide students a chance to earn a diploma.
With the credit recovery option, students can redo coursework or complete a class in an online, blended or in-person environment. It's that second chance to earn a high school diploma in which students can zero in on difficult material and self-pace to meet their needs. Below are four common misconceptions about recovery programs, followed by rebuttals that advocate how they enhance education.
Credit Recovery Programs Aren't Challenging Enough
Credit recovery programs are widely diverse in design. One program may be highly customized to meet student needs independently online, and another may be structured around a traditional classroom setting with face-to-face teacher support. What may be challenging to one student may not or may be challenging to another. Skeptics believe credit recovery programs are "watered down" substitutes for real classroom settings, yet what may be mediocre or boring learning material to one student may be prolific for another.
The centerpiece of credit recovery programs is the focus on personalization. An online credit recovery program can be specially designed to engage gifted students who just doesn't perform well in traditional settings or match the unique learning style of a struggling nontraditional learner. Both types of students, for example, can require different types of learning models and approaches to challenge their capabilities.
Cindy Lohan, eSolutions manager for Florida Virtual School, asserts, "Online learning gives students seeking credit recovery the individual attention they need to be successful," according to "Promising Practices in Online Learning: Using Online Learning for At-Risk Students and Credit Recovery" by the North American Council for Online Learning.3 FLVS found success by offering distance and self-paced online education courses. FLVS students who self-reported taking credit recovery courses had a 90.2 percent passing rate during the 2007-2008 school year.
Credit Recovery Is Poorly Aligned With Coursework
The purpose of a credit recovery program is to strengthen students' skills in weak areas and give them the opportunity to focus on difficult subjects and skip repetitious material they've already mastered. With this level of tailored learning, the coursework may naturally deviate from the curriculum; but it doesn't necessarily suggest that the core of the content is devalued or off-track in any way. Also, credit recovery programs place a strong emphasis on variety; programs can be traditionally face-to-face, online or both, depending on which method supports the student most effectively. As a result, the coursework won't mimic the class's detail by detail.
If anything, a credit recovery solution provides an enhanced learning experience supplemented by a system that charts student progress, tracks credit accumulation and projects on-time graduation. Jackson School District's Alternative School in Jackson, Michigan, uses a blended approach, which ends up increasing its curriculum offerings.3 Flexible learning approaches, using lab settings and online components, for example, can motivate students, promote independent learning skills and keep students on track to graduate.
Schools Don't Have Adequate Quality Control
Because blended recovery programs feature online learning, the level of academic quality and authenticity with third-party software applications is a concern. Yet, in a blended model, students aren't just mindlessly earning a credit by staring at a computer screen. Teachers and mentors also interact with students in a classroom and lab to provide face-to-face help, guidance and feedback.
In Oregon's Salem-Keizer School District, a licensed teacher works with students remotely and visits classrooms as part of the The Bridge Program instructional team. This type of online teacher, along with a team of instructional assistants, an office specialist, special ed teacher and guidance counselor, can monitor students to ensure they're not just idly passing a class in nine hours, but engaged in the material both offline and online.3 Creating individualized academic plans and setting expectations without lowering standards can help maintain the integrity and quality of education in recovery credit programs.
In recovery programs, students receive credit based on the skills and knowledge they gain, not how much time they spend in a seat, according to The Hechinger Report.1 A student may be physically present in a classroom, yet mentally absent. A student may be at home on the computer, but mentally engaged while completing an interactive assignment as part of the credit recovery program. Credits are typically earned based off competency measures as opposed to seat-time requirements.
Grade Recording Can Be Insufficient
The grading policies of credit recovery programs can be a murky area of fairness and unfairness, accurate representation and misrepresentation. Grade averaging can increase the likelihood that a student fails, suggests The Glossary of Education Reform, and inaccurately represent academic performance. Proponents, however, advocate grade averaging because it prevents students who consistently performed poorly or didn't meet expectations throughout the course from earning a comparable or higher grade than someone who consistently performed well and did indeed meet expectations. Grader averaging ensures top performing students earn their deserved high grade.4
The Center for Public Education also mentions that differences in grades, such as giving a complete grade replacement or recording an additional grade, can be unfair. However, similar to grade averaging, giving a pass/fail grade can create uniformity and fairness in recording grades, regardless of the type of program.5
To learn more about Penn Foster's credit recovery, summer school, and dropout retrieval programs, click here.
Resources:
(1) Students short on educational credits turn to "recovery" programs
(2) Buffalo graduation rate rises with "credit recovery"
(3) Using Online Learning for At-Risk Students and Credit Recovery
(4) Credit Recovery; Grade Averaging
(5) Credit recovery programs: full report