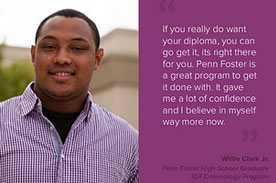 Each day 7000 students are faced with the tough decision of leaving high school. Despite the common misconceptions about this group of learners, many don't have a choice, and are in need of help navigating the hazards of poverty, violence, neglect, abuse, health issues, death or incarceration of family. However, when given an opportunity to return to school, these students are filled with motivation and often refute the stereotypes high school dropouts are labeled by.
As part of America's Promise Alliance, Penn Foster is fueled by a national effort to improve high school graduation rates and shed light on the external circumstances faced by non-completers. By helping these non-completers -- both youth and adult learners -- regain access to education, we help students gain confidence, credentials, and skills to help them better their lives and overcome challenges.
In the past year, we have made major strides towards achieving this goal by partnering with community organizations to offer hybrid learning programs that work. This includes partnerships with major youth organizations such as Job Corps and YouthBuild, career schools and colleges, and public and private high schools across the country. Working together, we successfully deliver accredited, affordable and flexible education to these at-risk students through partnerships with these great organizations.
View the Penn Foster SlideShare below to learn more about how we're combating the dropout crisis through community partnerships.