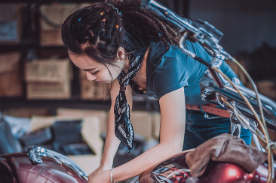 Apprenticeships have been a part of the U.S. educational system since long before the country declared its independence. Now apprenticeships are in vogue again. This traditional training method offers several advantages, and many people are wondering if apprenticeship programs are the future of education.
Now everywhere you look, training partners and employers are talking about apprenticeship programs and how they can help fill employment gaps while employing workers who haven't yet built professional skills.
Penn Foster alone placed more than 5,000 apprentices with more than 500 employer partners over a 12 month period ending July 2017. Since then, we've placed thousands more and added dozens of new employer partners. This focus on apprenticeships as an integral part impacting the future of work was ahead of the curve. In June of 2017, the White House announced an executive order expanding apprenticeships in America. The previous administration had also focused on apprenticeships, pledging more than $50 million to expand the training strategy across three dozen states.
Why all this fervor over apprenticeships? It's not as though they're a new concept. Benjamin Franklin was apprenticed when he was 12 years old and the first legislation regarding an organized system for apprenticeships was passed in 1911. Why are we suddenly talking about them again?
Why apprenticeships? Why now?
Certain jobs have traditionally required apprenticeships. The Bureau of Labor Statistics names electricians, masonry workers, and carpenters among this list. However, new industries are turning, or in some cases returning to, the apprenticeship model.
Apprenticeships are particularly attractive right now for several reasons. First, the low unemployment rate means companies are struggling to find enough qualified employees to fill open positions. They're doing whatever they can to stand out from the competition. Offering the opportunity to learn while you earn is a pretty strong incentive for job seekers.
Second, as the cost of college rises, more learners are looking for ways to upskill without going into debt. Apprenticeship programs meet this need by allowing them to collect a paycheck while learning vital career skills.
Third, the changing pace of technology and industry means that some employers have lost confidence in college as a preparation for employment. Taking a direct role in developing new hires looks like a smarter investment.
"The notion of curating your own workforce is really what we see a lot of employers focus on, and apprenticeships [are] one way that you can do that," chief operating officer of Penn Foster, Dara Warn told trainingindustry.com.
The apprenticeship model allows for a more collaborative approach between employers and education partners. Rather than sitting back and waiting for colleges to send them graduates that hopefully have the right skills, employers can shape a training program that meets their needs.
In short, apprenticeships benefit both the employee and the employer by allowing the employee to build skills while also collecting a paycheck. The employer gets a ready supply of qualified workers, and the employee learns a trade without amassing debt for educational expenses.
Apprenticeship participation is growing.
With all of those benefits, it's no wonder that apprenticeship participation is on the rise. More than 10,800 new apprenticeship programs were created between 2013 and 2018 according to Department of Labor statistics.
To be counted in this number, your program must meet either state or federal guidelines. This ensures that the student learns transferable skills that are recognized and needed by the industry. If the idea of teaching your employees transferable skills makes you nervous, consider this: 91% of learners that complete an apprenticeship are still employed nine months later, according to the Department of Labor.
To expand access to apprenticeships and fuel continued growth, the DoL has proposed new rules. If implemented it would enable organizations to establish, recognize and monitor apprenticeship programs. The organizations would be known as Standards Recognition Entities and would have slightly more flexibility in the format and cadence of the programs they could implement.
These entities are designed to support, but not replace, the existing system. At the moment governmental agencies approve apprenticeship programs. The proposed rules are designed to give private industry a bigger role in the process, something that business leaders may well embrace.
So are apprenticeship programs the future of education? Yes, at least in part. Electricians, HVAC workers, and plumbers can all expect apprenticeship programs to continue to pave their educational pathways. At the same time aspiring retail managers, IT workers, healthcare workers and direct support professionals can expect to see apprenticeships become a path to careers in their industry. Employers will continue to look for ways to close skills gaps and fill open positions into the future. Apprenticeships are one powerful way to do that.
The success of your apprenticeship program depends on choosing the right learning partner. Penn Foster has helped hundreds of organizations across the country to create customized apprenticeship programs that meet their unique needs. Contact a Penn Foster training expert to get started.